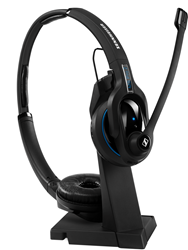 Superior noise cancellation, transmission quality and voice intelligibility are not luxuries in these sensitive verticals, they are an intrinsic component to keeping the end-customer's data private and secure
Old Lyme, Conn. (PRWEB) December 07, 2015
Sennheiser, a leading manufacturer of premium headset and audio solutions, has embarked on an initiative offering its premium noise cancellation headsets for vertical markets that place a priority on customer data confidentiality. These include industries such as healthcare, government, finance and legal environments, where customer service is often conducted through contact centers, yet the handling of patient or customer data is subject to strict security guidelines.
Regulatory initiatives such as HIPAA (the Health Insurance Portability and Accountability Act) in the healthcare marketplace, PCI compliance standards in retail, and obvious security concerns in sectors such as government and finance have forced many businesses to adopt strict compliance measures. In several of these instances, companies are subject to fines if patient data and/or customer credit card information is not protected according to a stringent set of criteria. These businesses can ill afford to allow customer information to be overheard as background conversation during a service call—often a consequence of a low-end headset in an open contact center environment. In addition, sub-par audio quality tends to lead to information being repeated by agents various times, increasing the potential for a customer's personal information to be overheard by another caller.
"We've all been in the situation where, upon calling a customer service number, we inadvertently become privvy to another customer's information, simply because we can hear other agent discussions," said Bill Whearty, vice president, sales and marketing, CC&O, Americas, Sennheiser Electronic Corp. "Many of us have also been forced to reiterate sensitive information in a public setting because an agent can't understand our responses. This is the mark of a poor quality headset, and it's unacceptable in an environment where the end-user's information needs to be protected, by law or otherwise. We are now looking to target dealers and end-users in these markets, to raise awareness of how noise cancellation and audio clarity can help them better adhere to privacy standards."
Sennheiser has been a leader in audio technology for 70 years, producing high-fidelity audio products for the professional recording community for decades. The company has leveraged its high-end quality for contact center environments over the past 10 years with a line of premium unified communications audio solutions. These include wired, wire-less, Bluetooth, DECT and mobile models such as the D 10 series, SD wireless, Century, Circle, Culture, MB and PRESENCE headsets. These products are certified for compatibility with a roster of the market's top telecommunications providers, including Microsoft, Cisco and Avaya.
Sennheiser's entire portfolio of award-winning headsets deliver extraordinary noise can-cellation, voice intelligibility, comfort over long periods of use, and durability that enhances the value—and the productivity-boosting capabilities—of sophisticated contact center solutions.
"Superior noise cancellation, transmission quality and voice intelligibility are not luxuries in these sensitive verticals, they are an intrinsic component to keeping the end-customer's data private and secure," continued Whearty. "We urge dealers and end-users in these highly-regulated industries to understand how vital a high-performance headset is to maintaining their customer's confidentiality—and to honoring their own security compliances."
About Sennheiser
Audio specialist Sennheiser is one of the world's leading manufacturers of headphones, microphones and wireless transmission systems. Based in Wedemark near Hanover, Germany, Sennheiser operates its own production facilities in Germany, Ireland and the USA and is active in more than 50 countries. With 18 sales subsidiaries and long-established trading partners, the company supplies innovative products and cutting-edge audio solutions that are optimally tailored to its customers' needs. Sennheiser is a family owned company that was founded in 1945 and which today has 2,700 employees around the world that share a passion for audio technology. Since 2013, Sennheiser has been managed by Daniel Sennheiser and Dr. Andreas Sennheiser, the third generation of the family to run the company. As part of the Sennheiser Group, the joint venture Sennheiser Communications A/S is specialized in wireless and wired headsets and speakerphones for contact centers, offices and Unified Communications environments as well as headsets for gaming and mobile devices. In 2014, the Sennheiser Group had sales totaling €635 million. http://www.sennheiser.com