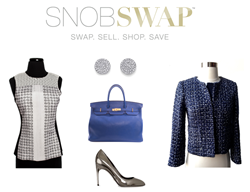 It's been a thrilling experience to be on the forefront of change, bringing brick and mortar consignment boutiques into the digital age. There is a great momentum of enthusiasm from boutiques eager to gain nationwide access to customers through Snobswap
Washington, D.C. (PRWEB) June 04, 2014
Snobswap.com, an online marketplace for pre-owned designer clothes and accessories, is helping designer consignment boutiques from New York, D.C., Las Vegas, Cleveland and more expand their businesses online.In addition to the growing list of U.S. stores, Snobswap just launched its first international consignment boutique from Canada last week.
Snobswap.com provides an online destination to shop brick-and-mortar designer consignment boutiques. Snobswap carefully selects each consignment boutique, providing users the highest curation of designer and contemporary brands. Only stores with collections such as Chanel, Christian Louboutin, Hermès, Prada, Louis Vuitton, Christian Dior, Isabel Marant, Marni, and Balenciaga are invited to join.
Joining the prestigious consignment boutiques already on Snobswap are Rewind Clothing, Cleveland Consignment, Reddz and Taupe Co. Users can now shop these boutiques alongside INA, one of Vogue's favorite consignment boutiques located in New York.
Rewind Clothing, one of the top consignment stores from Calgary, Canada, is the first international store to launch on Snobswap. Cleveland Consignment, a favorite of Fox News and the premier consignment store in Woodmere, OH,provides a robust designer handbag collection with cult favorite brands like Chanel, Balenciaga, Louis Vuitton and Judith Leiber. Reddz Trading, one of D.C.'s top consignment stores, has a modern approach to recycling designer clothing and accessories. Taupe Co, a contemporary clothing boutique based in Las Vegas, has a collection of rare, hard-to-find pieces.
Snobswap has hired Alida Sanchez, the D.C. Commissioner of Fashion, to be its Manager of Business Development. Sanchez is responsible for driving consignment store growth. "Alida brings over a decade of merchandising and marketing experience working for luxury retailers such as Bruno Magli, Chanel and Saks Fifth Avenue. Her dynamic background is a great asset to the company," says Elise Whang, CEO and Co-Founder of Snobswap.
"It's been a thrilling experience to be on the forefront of change, bringing brick and mortar consignment boutiques into the digital age. There is a great momentum of enthusiasm from boutiques eager to gain nationwide access to customers through Snobswap," says Sanchez.
Recently named by Refinery29 as one of "The Only Online Resale Shops Worth Knowing" and by Teen Vogue as "The Best Ways to Buy and Sell Clothes Online," Snobswap has seen significant growth in both the consignment stores and the peer-to-peer marketplace.
About SNOBSWAP
Snobswap is the premier online platform to sell, swap and shop pre-owned designer clothing, handbags, shoes and accessories. Snobswap is the only online marketplace that brings access to the best consignment stores and top closets online. Snobswap mobile app is coming out this summer.