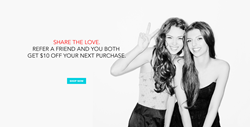 (PRWEB) October 06, 2014
SnobSwap.com, a luxury resale site to shop brick-and-mortar designer consignment boutiques and top closets, launches a referral program allowing members to invite friends. For each referral, the member and their friend each earn $10 to shop on SnobSwap. Members can earn an unlimited amount of dollars to shop on the designer resale site through the Refer a Friend program.
This program is positioned to further drive SnobSwap's already rapid membership growth. As referrals of referrals sign up and become SnobSwap members, membership growth will continue to accelerate.
SnobSwap also extends its reach with a limited time promotion for Fall. The designer reseller is offering an extra $20 off purchases of $100 and more.
Users can shop from over fifty designer consignment boutiques from across the nation including New York, Miami, D.C., San Francisco, and Los Angeles. Each boutique has been carefully selected to join SnobSwap for their quality of merchandise and unique offering.
Notable boutiques include: INA, famous for having New York fashion editors as consignors; C. Madeleines, acclaimed by Vogue for its designer vintage "through the decades; and On Que Style, southern California's largest couture consignment boutique.
Shoppers save on top of already-reduced prices on popular designer items such as Chanel vintage jewelry, Hermès Birkin bags, and Christian Louboutin pumps. Each piece is carefully curated and guaranteed authentic by the boutiques.
The promotion ends at 11:59 pm EST on 10/12/2014. Use promo code FALL20 at checkout. Go to http://www.snobswap.com to shop.
About SnobSwap
SnobSwap is the premier online platform to sell, swap and shop pre-owned designer clothing, handbags, shoes and accessories. SnobSwap is the only online marketplace that brings access to the best consignment stores and top closets in one destination.