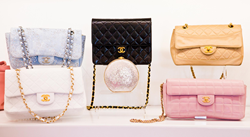 (PRWEB) October 09, 2014
Brick-and-mortar consignment boutiques across the country are joining the digital age and placing an emphasis on e-commerce. Local designer consignment stores from New York, Los Angeles, Washington D.C., San Francisco and Las Vegas are choosing SnobSwap.com as their e-commerce platform. The newest boutiques to follow this trend are The Consignment Bar (Miami, FL), Monique's Boutique (Laguna Beach, CA), and Designer Vintage (Brooklyn, NY).
SnobSwap is the leading online marketplace to shop the nation's best high-end consignment boutiques as well as buy and sell pre-loved designer clothing amongst SnobSwap's quickly expanding community of online shoppers.
The Consignment Bar is just north of the trendy Wynwood district of Miami, boasting a premium selection of curated designer bags, shoes, clothing and accessories. This store has all the fixings of a high-end boutique, decorated with crystal chandeliers, a cowhide rug, velvet couches, and Venetian mirrors. Designer handbags are displayed at the customized 40-foot bar behind a counter (hence the name). The Consignment Bar launched on SnobSwap with labels such as Hermès, Chanel, Louis Vuitton, Christian Louboutin, Lanvin, YSL, Prada, Burberry and more.
Monique's Boutique is Laguna Beach's newest upscale consignment boutique, with the physical store located on the beautiful Pacific Coast Highway. Monique's Boutique launched on SnobSwap with hard-to-find designer pieces including Tom Ford lace-up booties, Christian Louboutin Spiked Pumps, and Hermès jewelry.
Designer Vintage in Brooklyn launched on SnobSwap with a variety of Chanel handbags and dresses by Escada and Valentino.
Each boutique on SnobSwap is carefully vetted and selected for their high-quality, on-trend, and authentic merchandise.
To shop the newest boutiques on SnobSwap, go to: https://snobswap.com/designerconsignmentboutiques
ABOUT SNOBSWAP
SnobSwap is the premier online platform to sell, swap and shop pre-owned designer clothing, handbags, shoes and accessories. SnobSwap is the only online marketplace that hand-selects the best consignment stores and top closets to sell online. SnobSwap mobile app will launch in the fall.