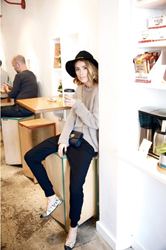 (PRWEB) December 17, 2014
SnobSwap.com, the top destination for shopping the best designer consignment boutiques, has curated the top picks for their annual holiday gift guides for everyone who wants to gift the very best this season, without breaking the bank.
Here are the top 3 guide gifts guides curated by model/designer Anine Bing and SnobSwap editor.
1. Anine Bing's 2014 Holiday Gift Guide
Anine Bing is a Danish model turned designer with her own fashion line that has a cult following – Anine Bing. She also has a popular lifestyle blog Anine's World, where she shares inspiration from fashion to interior design to music.
Anine unveiled her top gift picks this week, which will include her favorite gift-worthy designer pieces from SnobSwap.com. She also took over SnobSwap's Instagram to share a sneak peek of her fashion-filled day. Follow @snobswap more for gifting and fashion inspirations.
2. The Ultimate Friend Gifting Guide
Here's the ultimate list of top picks for every friend on your list from the tech savvy to the fitness junkie to the jetsetter.
3. The Ultimate Family Gifting Guide
Finally, just in time for the holidays, the perfect gift guide for every member of the family from your trendy little sister to mother dearest to your regal father and your newlywed cousin.
ABOUT SNOBSWAP
SnobSwap is the premier online platform to sell and shop pre-owned designer clothing, handbags, shoes and accessories. SnobSwap is the only online marketplace that hand-selects the best consignment stores and top closets to sell online.