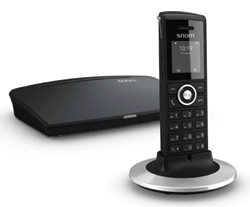 Expand the Snom M325's included M300 base station with additional handsets.
Milwaukee, WI (PRWEB) March 30, 2015
Snom is introducing brand new product offerings to its wireless phone portfolio. The Snom M325 DECT phone and base station bundle, and the Snom M25 DECT expansion handset, are now available at IP Phone Warehouse.
Included with the Snom M325 DECT phone bundle are the M300 base station and the M25 handset. Take the base station and handset out of the box, set it up with a SIP phone system, and quickly have access to a reliable wireless VoIP phone.
The Snom M300 base station communicates wirelessly with the M25 handset through secure DECT technology. The M300 joins Snom's existing DECT solution, the M700 base station, by offering compatibility with the M65 handset and M5 repeater as well as the M25 handset. Mix and match Snom's DECT product offerings to create a purpose-built wireless solution.
Expand the Snom M325's included M300 base station with additional handsets. Up to 20 M25 expansion handsets or M65 expansion handsets can be operated with the base station. The new Snom M25 handset utilizes rechargeable AAA batteries for easily replacing the power supply when necessary.
Features onboard the Snom M325:

Interoperability with many SIP phone systems
Support for many VoIP call features
Wideband and narrowband modes
The M25 handset has a speakerphone and headset port
The M300 base station is wall mountable
DECT technology gives the Snom M325 incredible power. The handsets can be operated at an astonishing distance away from the base station. Plus, DECT is a highly secure and encrypted signal technology, impervious to interference from cellular or WiFi networks. The benefit is that Snom DECT phones are perfect for a wide range of industries and environments.
Reach out to IP Phone Warehouse today by email at service(at)ipphone-warehouse(dot)com or by phone at (888) 201-9056 to learn more about implementing DECT or about more Snom solutions.
About IP Phone Warehouse
IP Phone Warehouse is the leading specialty reseller of VoIP phones, video conferencing equipment, IP cameras and network devices. We're stocked with everything that small businesses and enterprises need to deploy reliable VoIP and video solutions. A dedicated customer service team and a wide range of available online resources support every product at IP Phone Warehouse.