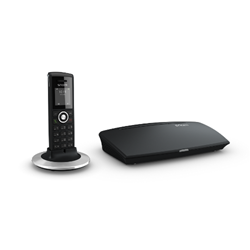 Buffalo, NY (PRWEB) April 03, 2015
VoIP Supply, North America's leading VoIP solutions provider, is announcing today the availability of the new snom M325 single-cell DECT base station and handset package.
snom recently upgraded their wireless offerings with the release of the multi-cell M700 DECT base station and M65 DECT handset. These devices offer a feature set similar to mobile phones that users are familiar with while providing reliable DECT wireless functionality in an office environment.
The new snom M325 can be used as starter package for wireless VoIP, or it can be added to a user's existing snom DECT solution as it is compatible with the M700 and M65.
The M325 has an indoor wireless range of 50 meters and an outdoor range of 300 meters. Up to three optional snom M5 DECT Repeaters can be added to the M325 or M700 to extend the range of the signal so that a building has full phone coverage.
The M325 can also handle:

Up to 20 additional M25 or M65 handsets
Up to five parallel calls
75 hours standby and seven hours talktime
Up to two simultaneous calls
All snom DECT solutions are compatible with leading IP-PBX systems and require no extra licences for additional codecs or features.
For more information about the snom M325 DECT wireless solutions call VoIP Supply at 800-398-VoIP or, visit http://www.voipsupply.com/snom-m325.
About VoIP Supply
We solve problems and create solutions with VoIP. VoIP Supply is a world class place to work with big goals,a clear vision, defined purpose and a dedicated team of passionate business professionals. We love what we do and do it better than any of our competition.
Since 2002, VoIP Supply has been the leading supplier of VoIP equipment and complete VoIP solutions in North America. We are known in the industry as responsive and knowledgeable VoIP product experts.
With everything you need for VoIP, VoIP Supply has grown rapidly throughout the years. VoIP Supply is a three-time Inc. 500/5000 honoree, listed by Business First as one of WNY's Most Admired Companies, as well as one of Western New York's Best Places to Work for many consecutive years.. VoIP Supply is also the first Certified B Corporation in Western New York.