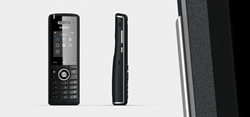 "snom knows that today's VoIP customers want and need to be more mobile. The new M65 handsets and M700 base stations not only look great but they offer a reliable wireless DECT solution." - Tom Costelloe, VoIP Supply Online Marketing Manager
Buffalo, NY (PRWEB) September 25, 2014
VoIP Supply, North America's leading provider of VoIP solutions since 2002, is announcing today the addition of new snom DECT devices to its online catalog.
Founded in Berlin, Germany, snom has been manufacturing open standard VoIP products since 1996 for the home office, small and medium-sized businesses, and enterprise applications.
With the latest snom M65 DECT Handset and snom M700 Multi-Cell DECT Base Station, snom is upgrading its wireless offerings to match the features that consumers are accustomed to with mobile devices while improving their DECT wireless functionality and coverage in an office environment.
Users of snom DECT will experience seamless reception across large offices or warehouses, even if the coverage area spans several floors.

snom M65 DECT Handset: Attractive 2" backlit color display with tri-color LED that shows missed calls, voicemail notifications, and battery status. The M65 has a standby time of 250 hours and up to 17 hours of talk time. Dual internal antennas give the M65 reliable reception up to 130 feet indoors with obstacles and up to 300 feet with nothing in the way.
snom M700 Multi-Cell DECT Base Station: The M700 Base Station gives M65 Handsets an uninterrupted and secure wireless DECT connection to the users voice network. The M700 can support up to 200 individual handsets, 40 additional base stations, and 100 repeaters in a single installation. The M700 runs on Power over Ethernet (PoE) so no additional power source is needed. The multi-cell solution ensures seamless handover and increased reception range.
"snom knows that today's VoIP customers want and need to be more mobile," said Tom Costelloe, VoIP Supply Online Marketing Manager. "The new M65 handsets and M700 base stations not only look great but they offer a reliable wireless DECT solution that's easy to install and expand."
VoIP Supply is currently taking pre-sale orders for both the snom M65 and snom M700 which are scheduled to be released in November 2014.
For more information about snom DECT devices, call 800-398-8647 or visit http://www.voipsupply.com/manufacturer/snom.
About VoIP Supply
We are a place of uncovering, cultivating and developing leaders. A world class place to work with big goals, a clear vision, defined purpose and a dedicated team of passionate business professionals. We love what we do and do it better than any of our competition.
Since 2002, VoIP Supply has been the leading supplier of VoIP equipment and complete VoIP solutions in North America. We are known in the industry as responsive and knowledgeable VoIP product experts.
With everything you need for VoIP, VoIP Supply has grown rapidly throughout the years. VoIP Supply is a three-time Inc. 500/5000 honoree, listed by Business First as one of WNY's Most Admired Companies, as well as one of Western New York's Best Places to Work for many consecutive years, including 2012. VoIP Supply is also the first Certified B Corporation in Western New York.