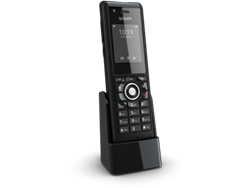 Set up this handset in any office, industrial or outdoors setting—a wireless phone for any situation.
Milwaukee, WI (PRWEB) August 26, 2015
IP Phone Warehouse is announcing the brand new Snom M85 DECT handset. The handset is part of Snom's enduring line of DECT phone solutions. A range of productivity-driven features separates the handset from similar wireless phones.
The Snom M85 handset is extremely durable, offers a long-lasting battery and includes Bluetooth headset connectivity. It's compatible with the Snom M300 and M700 base stations. Set up this handset in any office, industrial or outdoors setting—a wireless phone for any situation.
Snom refers to the M85 handset as ruggedized. Meaning, the handset is rated IP65 for its waterproof and dustproof design. Exposing the handset to water sprinklers or dirty environments will not risk harm to the electronics. The handset is also shockproof so it can be bumped, dropped or otherwise jostled without damage occurring.
An 1100mAh Lithium-ion battery lends the handset incredibly long talk time, standby time and charging time. A talk time of up to 17 hours and standby time of 200 hours can be achieved, so the handset can be normally used for several days before a charge is required.
For hands free telephony, the Snom M85 handset includes a 3.5mm port and Bluetooth. Plug in a wired headset or a wirelessly connect a Bluetooth headset.
Snom DECT solutions set the bar for enterprise-grade, wireless telephony. The available base stations and repeaters let any business create the ideal wireless DECT network across any type of building, from room to room and floor to floor.
Contact IP Phone Warehouse by phone: (888) 201-9056 or email: service(at)ipphone-warehouse(dot)com to learn more about the Snom M85 and compatible DECT solutions.
About IP Phone Warehouse
IP Phone Warehouse is the leading specialty reseller of VoIP phones, video conferencing equipment, IP cameras and network devices. We're stocked with everything that small businesses and enterprises need to deploy reliable VoIP and video solutions. A dedicated customer service team and a wide range of available online resources support every product at IP Phone Warehouse.