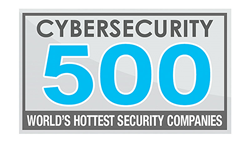 We're thrilled to be recognized as one of the most innovative cybersecurity companies, and as the top mobile security company.
Nashua, NH (PRWEB) August 17, 2016
SnoopWall, the World's First Breach Prevention Company is proud to announce that it has been named in the Top 100 of Cybersecurity Ventures' annual Cybersecurity 500 list. It was identified as the #1 mobile device security company for it's MobileSHIELD and AppSHIELD SDK technology.
The Cybersecurity 500 does not rank companies by revenues, employees, or annual growth. "We do not think a list of the largest cybersecurity companies is useful to our target audience of cyber and IT security decision makers, evaluators, and recommenders" says Morgan. "They already know who the biggest vendors are. Instead, we give a nod to the hottest and most innovative companies".
Gary S. Miliefsky, CEO of SnoopWall states, "We are thrilled to be recognized as one of the most innovative cybersecurity companies, and as the top mobile security company. By combining our patents-pending mobile technology with our patented, award winning NetSHIELD breach prevention appliances, we are solving the #1 problem in network security and the bring your own device (BYOD) dilemma in the most proactive way. Our focus is on preventing breaches and the fact that we're now in 32 countries and growing rapidly with thousands of global deployments speaks volumes."
The list includes the world's hottest and most innovative cybersecurity companies, and was created in order to create awareness and recognize brand achievement. The full list can be found here: http://cybersecurityventures.com/cybersecurity-500/
About SnoopWall
SnoopWall is the world's first breach prevention security company delivering a suite of network, mobile and app security products as well as cloud-based services protecting all computing devices from prying eyes and new threats through patented counterveillance cloaking technology. SnoopWall secures mission critical and highly valuable confidential information behind firewalls with our award winning patented NetSHIELD appliances and with WinSHIELD on windows and MobileSHIELD on Google Android and Apple iOS mobile devices with next generation technology that detects and blocks all remote control, eavesdropping and spying. SnoopWall's software products and hardware appliances are all proudly made in the U.S.A. Visit us at http://www.snoopwall.com and follow us on Twitter: @SnoopWallSecure.
Learn more about our cybersecurity expert CEO at http://www.snoopwall.com/media/
For CEO interviews and Press Inquiries Contact:
Brittany Thomas
News & Experts
727-443-7115 Ext: 221
Email: brittany(at)newsandexperts(dot)com