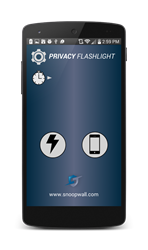 What most people don't understand is that we are losing our privacy every day with every app we install
Nashua, Nh (PRWEB) August 11, 2016
As of today, the SnoopWall Privacy Flashlight, available at Microsoft App store and the Google Android Play store has reached nearly 1 Million Downloads and has been named the #1 utility app by iGeeksApps (source: http://igeeksapps.com/the-23-best-free-android-apps-on-sale-for-update-weekly/10/). This on the heels of the SnoopWall CEO interview with Bret Baier of Fox News about Malicious Flashlight Apps reaching over 6.5M views at https://www.youtube.com/watch?v=Q8xz8xKEFvU. The story is simple: Most Flashlight apps are creepware designed by cyber criminals and other nation states like China and Russia. To counter this problem, SnoopWall developed an open source flashlight app that has no backdoors, no internet connectivity and is truly simply 'just a flashlight' provided at no cost to consumers. The proof is in the source code, available here: https://github.com/SnoopWall for Apple iOS, Google Android and Windows OS. Notice in this source code, the functionals necessary for a flashlight app include LED/Camera and nothing else - no internet, gps, wifi, contacts, phone identifiers or other information being gathered by most flashlight apps.
"There have been over nine hundred million personally identifiable information (PII) records stolen in the USA alone (source: http://www.privacyrights.org) and now our hackable computers are the smartphones in our back pockets, loaded with rich PII - a prime target for hackers, cyber criminals and nation states," said Mark Bermingham, VP of SnoopWall, Inc.
Most of these Flashlight apps are three to ten megabytes in size and by providing the source code, SnoopWall has proven that a flashlight app only needs about ten percent of this file size to operate. What are the rest of many of the top flashlight apps doing? Look here, for one example: http://www.snoopwall.com/flashlight-apps/ including turning on your microphone and connecting to servers in Beijing, China.
As the most popular downloaded apps, Flashlight apps have saturated nearly 50% of all smartphones.
"What most people don't understand is that we are losing our privacy every day with every app we install, without reading the permissions or the privacy policies. It's time to reclaim your privacy one app at a time and we made this free flashlight app to prove it could be done. Everyone who downloaded a flashlight app should delete it immediately and also look at all of the other apps on their smartphone to see how invasive and creepy they are - from bible apps that connect to servers in Russia to battery meter apps that connect to servers in China to Weather apps that can even steal bank deposit information - nothing is free unless it's open source code and you know it's not spying on you, as in the case of our Privacy Flashlight and Privacy App," said Gary S. Miliefsky, CEO of SnoopWall, Inc.
About SnoopWall
SnoopWall is the world's first breach prevention security company delivering a suite of network, mobile and app security products as well as cloud-based services protecting all computing devices from prying eyes and new threats through patented counterveillance cloaking technology. SnoopWall secures mission critical and highly valuable confidential information behind firewalls with our award winning patented NetSHIELD appliances and with WinSHIELD on windows and MobileSHIELD on Google Android and Apple iOS mobile devices with next generation technology that detects and blocks all remote control, eavesdropping and spying. SnoopWall's software products and hardware appliances are all proudly made in the U.S.A. Visit us at http://www.snoopwall.com and follow us on Twitter: @SnoopWallSecure.
Learn more about our cybersecurity expert CEO at http://www.snoopwall.com/media/
For CEO interviews and Press Inquiries Contact:
Brittany Thomas
News & Experts
727-443-7115 Ext: 221
Email: brittany(at)newsandexperts(dot)com