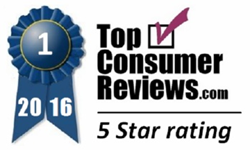 VitalSleep is a truly customizable way to prevent snoring... (they) earn our top rating for Snoring Products.
Overland Park, KS (PRWEB) September 02, 2016
TopConsumerReviews.com recently gave their highest rating to VitalSleep, an industry-recognized leader in products designed to help people treat Snoring.
Snoring is the most common reason for not getting a good night's sleep. Studies show that almost 100 million Americans are affected by this condition, which typically results from the muscles in the throat, tongue, and mouth relaxing as an individual moves into heavier sleep patterns. This leads to the airway obstruction resulting in the sound everyone recognizes as snoring. There are several approaches to preventing snoring, from oral appliances that prevent the mouth from relaxing during sleep, to suction devices that keep the tongue in place, and more.
"VitalSleep is a truly customizable way to prevent snoring," explained Brian Dolezal of TopConsumerReviews.com, LLC. "With two different sizes - one for men, and one for women - and a "boil and bite" process to ensure a perfect fit, this mandibular advancement device has helped thousands of people to get a quieter night's sleep. Where VitalSleep really stands out is in its excellent customer service, offering free size exchanges, free replacements for a full year, and a 30-day money back guarantee. VitalSleep earns our top rating for Snoring Products."
To find out more about VitalSleep and other retailers of products that target Snoring, including reviews and comparison ratings, please visit the Snoring Products category of TopConsumerReviews.com at http://www.topconsumerreviews.com/snoring/.
About VitalSleep
From the beginning, VitalSleep has been motivated by the desire to revolutionize customers' lives by improving their sleep, taking pride in creating products with superior quality and
design, the use of constant innovation, affordable prices, and personal, attentive customer service. VitalSleep sources all materials in the USA and has received FDA clearance. Furthermore, VitalSleep is manufactured in the USA, which means that they personally oversee that its manufacturing meets their exacting standards.
About TopConsumerReviews.com
TopConsumerReviews.com, LLC is a leading provider of independent reviews and rankings of hundreds of consumer products and services. From Snoring Relief to Colon Cleansers and Home Warranty Programs, TopConsumerReviews.com delivers in-depth product evaluations in order to make purchasing decisions easier.