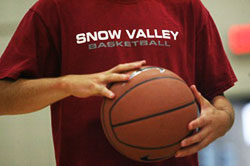 There is no better place to improve your game than Snow Valley, and we are very proud to continue that tradition.
San Rafael, CA (PRWEB) April 27, 2016
As the longest running basketball school of its kind, campers attending Snow Valley Basketball School in Santa Barbara, California, will receive more instruction in the fundamentals and more chances to improve skills than anywhere else in the country. The rigorous daily format includes fundamental instruction, clinics and team games from morning until night that encourages every camper to become a better player.
Directors Wayne Carlson and Steve Middleton will lead a staff headlined by the following distinguished staff:
Pete Gaudet (formerly of Duke University and Pete Newell's Big Man Camp)
Barry Rawlyk (Head Basketball Coach – University of Saskatchewan)
Tony Ronzone (Director of International Player Personnel – Dallas Mavericks)
Dave Bale (Chair of the Human Performance Dept – Corban University)
Tony Harper (Cathedral High School – winningest HS Coach in El Paso, TX)
Casey Jacobsen (Stanford University All-American/NBA Veteran)
Russell White (Crespi High School – 5 State Title appearances)
US Sports Camps VP of Basketball Operations, Brent Koonce states, "The summer basketball landscape has changed over the years for many basketball players into a mix of tournaments, games, and travel. However, there is no better place to improve your game than Snow Valley, and we are very proud to continue that tradition."
The 2016 schedule features three sessions for boys and two for girls and is highlighted by the weekend offensive skills sessions.
Snow Valley Boys Basketball Camps:
Complete Skills Camp I: July 24-28 (Sunday-Thursday)
Offensive Skills Camp: July 29-31 (Friday-Sunday)
Complete Skills Camp II: July 31- August 4 (Sunday-Thursday)
Snow Valley Girls Basketball Camps:
Offensive Skills Camp: July 17-21 (Sunday-Thursday)
Complete Skills Camp: July 22-24 (Friday-Sunday)
Players, coaches, parents and others interested in the 2016 Snow Valley Basketball Schools can visit http://www.ussportscamps.com/basketball/snowvalley/ or call 1-800-433-6060.
About US Sports Camps
US Sports Camps (USSC), headquartered in San Rafael, California, is America's largest sports camp network and the licensed operator of Nike Sports Camps. The company has offered summer camps since 1975 with the same mission that defines it today: to shape a lifelong enjoyment of athletics through high quality sports education and skill enhancement.