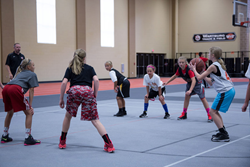 I'm incredibly excited to add Snow Valley Iowa to the US Sports Camps family.
San Rafael, CA (PRWEB) December 19, 2016
US Sports Camps announces its partnership with Snow Valley Iowa Basketball Schools. Now in its 24th year, Snow Valley Iowa represents the best in basketball instruction at their long-time host location, Wartburg College in Waverly, Iowa.
The agreement unites Snow Valley Iowa with US Sports Camps original Snow Valley Basketball School location in Santa Barbara, CA and ensures the great tradition of teaching the game continues. Don Showalter and Jerry Slykhuis remain as Co-Directors of the Iowa location.
"I'm incredibly excited to add Snow Valley Iowa to the US Sports Camps family. This summer basketball program is one of the best in the country. Don and Jerry have created an amazing tradition that we intend to carry on with them for years to come. Add in the incredible staff they have assembled, the awesome facilities at Wartburg, and you have a truly unique summer basketball experience," states Brent Koonce, Senior VP of basketball operations at US Sports Camps.
This coming summer, the Snow Valley Iowa schedule features four sessions in July, three for boys and one for girls. Wartburg College facilities are amongst the best basketball camp facilities in the country, providing an ideal spot to improve a players game.
Founding member and Coach Don Showalter expresses excitement about the partnership, "we are happy to partner with US Sports Camps for Snow Valley Iowa. This partnership will make our registration process much more efficient and easier for our customers. Starting this year, we can provide much better customer service than we've had in the past."
For more information, please visit: http://snowvalleyiowa.com/ or http://www.ussportscamps.com/basketball or call 1-800-645-3226
About US Sports Camps:
US Sports Camps (USSC), headquartered in San Rafael, California, is America's largest sports camp network and the licensed operator of NIKE Sports Camps. The company has offered summer camps since 1975 with the same mission that defines it today: to shape a lifelong enjoyment of athletics through high quality sports education and skill enhancement.