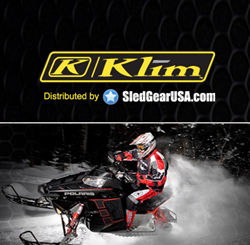 SledGearUSA announced that they would be providing a clearance on $1 million worth of KLIM gear.
Stillwater, MN (PRWEB) December 13, 2013
SledGearUSA is clearing out inventory and offering a limited-time inventory clearance on KLIM snowmobiling gear. Snowmobiling enthusiasts can replace worn-out gear or family members can find the perfect gift for the holiday season to encourage enthusiasts to enjoy the upcoming seasonal snow. SledGearUSA announced that they would be providing a clearance on $1 million worth of KLIM gear to help clear out their inventory.
KLIM gear offers the latest advances in snow technology to keep snowmobiling enthusiasts warm when they are out in the snow. The gear uses GORE-TEX fabrics and membranes to create winter bibs, snowmobile parkas and snowmobile jackets that are resistant to the cold and snow.
Although the primary fabrics used in the creation of the product are GORE-TEX, the problem that KLIM gear sought to resolve in the creation of its products was the weakness at the seams. The water resistant properties of the fabric did not help if the seams allowed snow to sneak through the cracks. The solution that sets KLIM gear apart is the innovative use of GORE-SEAM tape to seal the stitches and small openings at the seam without creating an opening for water and snow to sneak in under the fabric.
As a result, KLIM snowmobiling gear offers complete water resistance that is ideal for spending hours in the snow. All of the gear is waterproof, wind resistant and breathable. The bibs, jackets and coats are tested for quality before reaching winter enthusiasts.
SledGearUSA is offering discounted prices on KLIM gear products that provide the opportunity to find the perfect gift for outdoor winter enthusiasts. Find the perfect gift to encourage a loved one to enjoy their favorite winter pastimes or get out in the snow and enjoy the winter weather while the inventory clearance is still available.