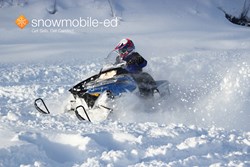 Dallas, Texas (PRWEB) February 03, 2014
Snowmobile aficionados who plan to introduce friends or family to snowmobiling during "Take a Friend Snowmobiling Week," should encourage new riders to take an official safety course. Students can obtain their snowmobile license or safety certification at snowmobile-ed.com in plenty of time to take part in the Feb. 8-17 campaign.
The official, state-approved courses at snowmobile-ed.com are available on any device, so students can access their course on the Web even if the only way they have to connect to the Internet is via their smartphone. The new mobile-ready course features videos, realistic illustrations and interactive animations that make it easier and more fun to learn how to safely operate a snowmobile.
The new video course will teach students how to:

Select the appropriate riding gear
Prepare for various riding conditions
Follow state laws while riding
Properly load and unload their machines
Maintain and store their snowmobiles
"Our goal in developing this series was to create videos that would be fun for students to watch. We wanted to use humor, where appropriate, to focus the student's attention on the safety advice," said Kurt Kalkomey, president of Kalkomey Enterprises, Inc., which produces snowmobile-ed.com. "Our videos are meant to engage students with opportunities to explore and select the best options for staying safe while operating their machine. This helps students develop true understanding rather than just memorizing the lesson."
"Take a Friend Snowmobiling Week," is held to inspire current snowmobilers to invite their friends and family members to try snowmobiling. Snowmobiles are a great way for people to enjoy winter and see beautiful areas they might otherwise never experience. To learn more about "Take a Friend Snowmobiling Week," visit http://www.gosnowmobiling.org.
About Kalkomey
Kalkomey, parent company of snowmobile-ed.com, is an official provider of recreational safety education materials for all 50 states and Canada. An American company based in Dallas, Texas, Kalkomey produces print and Internet courses that have provided official safety certification since 1995. Kalkomey offers safety courses in boating, hunting, bowhunting, and off-road vehicle (ORV) and snowmobile operation. For more information, visit http://www.kalkomey.com.