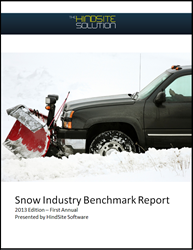 We added this pricing structure to be more flexible . We want help them by assuming some of the risk a snow professional faces
St. Paul, MN (PRWEB) September 18, 2013
Operating a snow removal business is risky. Though it can be highly profitable if it snows, if it doesn't, snow removal professionals can lose a lot of money. Even worse, most snow removal software licensing doesn't offer any flexibility should it fail to snow. Typical licensing agreements either charge a hefty up-front fee and or monthly license fees that snow removal contractors must pay, whether it snows or not.
But not anymore. HindSite software has just announced a new pricing structure for its customers. The field service software company has introduced daily snow removal software licenses.
The new license option allows snow contractors to choose between two options: daily licenses or monthly licenses. Daily licenses are only charged when they are used during the month; monthly licenses are charged a flat rate each month.
"We talked a lot to snow removal professionals and one of their biggest complaints about snow removal software was how inflexible the pricing was," explains David Crary, HindSite's President. "We added this pricing structure to be more flexible. We want help them by assuming some of the risk a snow professional faces. We have made options available to be more sensitive to those who work for the weather, but cannot control it."
Previously, HindSite only offered monthly licenses for those in the snow industry. The daily licenses are a perfect fit for companies who only experience one or two snow events in a month or have certain trucks or crews that only work during major events. HindSite also allows snow contractors to mix and match daily and monthly licenses, enabling them to purchase a daily license for trucks or employees they only use during major snow events.
"Some companies will find that the monthly licenses are a better bet for their dollar because and they will be out on the roads a lot," explains Crary." Other companies, who know they only get hit a few times a year with snow, are better off with a daily license. It allows our customers to still get the benefits of HindSite, without being deterred due to price. We want everyone to have the option of HindSite, no matter their circumstances."
Daily licenses can be purchased for $14.95 per day. Monthly licenses are also available and vary depending on the number of licenses a company has. For more information on the pricing of HindSite's licenses, please contact Gabriel Seymour at 888-271-4076 or email gabriels(at)hindsitesoftware(dot)com.
About HindSite Software
HindSite Software has helped contractors better manage and grow their business with field service software since 2001. Initially designed as irrigation software, HindSite today assists service businesses with scheduling and billing (e.g. service scheduling software), contact and contract management, field data collection, and invoicing in QuickBooks®, Sage Peachtree®, and Simply Accounting®. This paperless field service management software has been proven to increase efficiency and organization, meaning greater profit potential with less administrative time.