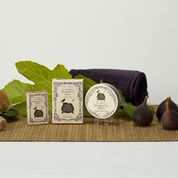 Our California Mission Fig and Honey line honors California's history, while providing sensory pleasure and outstanding skin efficacy.
Santa Rose, California (PRWEB) January 06, 2015
Sonoma County based Soap Cauldron™ (http://www.soapcauldron.com) will participate in GBK's 2015 Golden Globes Celebrity Gift Lounge, in association with The Artisan Group®. Selections from its Three Sisters Apothecary line of handcrafted California Mission Fig & Honey bath and spa products will be gifted to celebrities visiting The Artisan Group's exhibit. The by-invitation-only Gift Lounge takes place January 9-10 at an exclusive location in Hollywood, California.*
Included in The Artisan Group celebrity gift bags will be:

A four ounce Mission Fig & Honey Body Butter($9.50 at soapcauldron.com). This body butter blends Mission Figs and honey with beeswax, shea, avocado and cocoa butters to gently pamper the skin. Creamy and rich but never greasy, this all natural body butter is light and absorbs quickly to restore and soften skin.
A 1.75 ounce Mission Fig & Honey Body Bar($3.25 at soapcauldron.com). This bar pairs Mission Figs with honey and dandelion to exfoliate surface skin to keep it hydrated and conditioned. The combination clarifies naturally, while tightening pores and optimizing sebum production.
Mission Figs, a rich part of California history, were brought from Mexico by Franciscan missionaries. First planted in San Diego in 1769 and as far north as the 21st mission in Sonoma, these dark purple California figs, were called Mission. Today, Mission Figs grow abundantly and are rich in beta carotene, natural vitamins, minerals and Omega 3 essential fatty acids. Naturally occurring enzymes in figs combine with beneficial properties in honey and dandelion to exfoliate surface skin keeping it hydrated and conditioned while clarifying naturally as they tighten pores and optimize skin's sebum production.
The use of honey in cosmetics dates back to 2100 BC. Ancient Sumerians, Indians and Egyptians valued its ability to provide the skin with balance and natural glow.
"We know celebrities will enjoy this line, which honors California's history while providing sensory pleasure and outstanding skin efficacy," said Emma Mann, soap artisan and founder of Soap Cauldron.
Soap Cauldron is a locally owned and operated artisan soap company. Its bar soaps are handcrafted in small batches in the centuries old tradition of soap-making, with gourmet oils, butters, essential oils and botanicals. All its products are certified cruelty free by Leaping Bunny and are produced to the highest quality standards while adhering to the concepts of sustainability and environmental consciousness.
Three Sisters Apothecary has gifted its products at GBK's Luxury Gift Lounges for the Primetime Emmys, the MTV Movie Awards and the Golden Globes. They have also participated in The Artisan Group's Earth Day collaborative gift bags, delivered to some of Hollywood's most eco-conscious celebrities, including Leonardo DiCaprio, Hayden Panettiere, Ginnifer Goodwin and others.
To learn more about Soap Cauldron, contact Emma Mann using the email button on the right. Become a fan of the company on Facebook, Twitter and Instagram (@soapcauldron) and follow it on Pinterest (@soapcauldro0061). Shop Soap Cauldron at soapcauldron.com, on Etsy and at boutiques and premium natural food stores.
For press inquiries regarding The Artisan Group, visit theartisangroup.org.
*This event is not affiliated with the Golden Globes show; Soap Cauldron is not in any way affiliated with the Hollywood Foreign Press Association.
About Soap Cauldron™
Soap Cauldron (http://www.soapcauldron.com) takes ingredients from nature and transforms them into nourishing and gentle bars to gently cleanse and pamper the skin. Soap Cauldron users will see and feel the difference when they experience its natural handmade soaps and invites customers to try either of their brands, Three Sisters Apothecary or Soapy Tails.