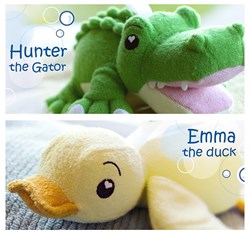 SoapSox... Who knew Getting Clean Could Be So Fun!
Eagle Rock, CA (PRWEB) September 17, 2013
Designed as a washcloth alternative, SoapSox looks to increase parent-child bonding and smiles at bath time. What makes SoapSox extra special is their patented designs. Each character has a unique entry point for liquid or bar soap, such as the mouth fed gator seen here. SoapSox also has finger pockets for better handling, come in a variety of great colors, and is machine-washable. The exterior "skin" is made of traditional terrycloth, while the interior of a SoapSox consists of an anti-microbial sponge which extends the life of suds.
Founders and fathers, Ray Philips and Alvin Uy, are hoping to take bath time by storm while stressing the opportunity that bath time provides to bond and develop play skills with your child. The pair started development of the product nearly two years ago after Philips, who worked with children, found that bath time was the most challenging time of the day, and created a unique solution.
The two launched a strong crowd funding campaign on Kickstarter® to address the costs of production and patenting, and are currently at $30,000.00 of the $45,000.00 needed for total backing. All contributors who back the project receive their pick of SoapSox with larger backers also getting the limited edition Soapsox Dragon. SoapSox will offered at a MSRP of $14.99 when it hits stores, but you can grab the whole set now for $10 bucks each on kickstarter.com until Friday September 20th at midnight.
SoapSox will debut at the 2013 ABC Kids expo in Las Vegas from October 15 to 18. You can find them at booth #1015. To get your SoapSox early click on the Kickstarter® link or website link for details.