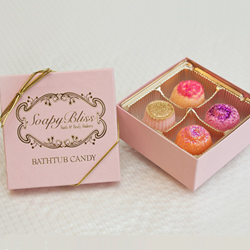 We are constantly inventing luscious products that make our customers feel like a kid in a candy store!
Seattle, Washington (PRWEB) January 05, 2016
SoapyBliss Bath & Body Bakery (http://www.soapybliss.com) will participate in GBK's by-invitation-only luxury celebrity gift lounge in honor of the 2016 Golden Globes Nominees and Presenters, where it will have its Bathtub Candy, Mermaid Deliciously Whipped Body Butter and Mermaid Cupcake Bath Bomb on display and its Box of Bubbly Bathtub Candy gifted to celebrities stopping by The Artisan Group® exhibit. The Gift Lounge will take place January 8-9, 2016 at an exclusive location in Hollywood, California.
SoapyBliss founder Cindy Brunetti is not only head soap maker, but head pastry chef when it comes to creating the company's soapy confections. Admitting to an unabashed sweet tooth, Brunetti has devised a bath and body product line that is a clever play on bakery and confections, with product names like "Truffle Buffer" Body Buffer and "Box of Chocolate" Bathtub Candy.
"Everything we create at SoapyBliss is irresistibly cute and sweet smelling," says Brunetti. "We are constantly inventing luscious products that make our customers feel like a kid in a candy store."
For the 2016 Golden Globes, Brunetti has done it again. This year she was asked by celebrity gifting organization The Artisan Group® to design a special display piece for exhibit, along with 100 individually packaged gifts for their highly sought after swag bag.
To fulfill the swag bag request, Brunetti created a special, awards show-worthy edition of her popular Bath Tub Candy, which she is calling "Box of Bubbly." It contains her popular Bathtub Candies in four fabulous flavors: Mimosa, Bellini, Strawberry and Champagne and Pink Champagne. A smiling Brunetti remarks, "It is truly an ode to champagne."
"Box of Bubbly" is available for $16.00 at soapybliss.com.
SoapyBliss products have been included in swag bags for GBK's celebrity gift lounges for the Golden Globe Awards, the Primetime Emmys, the Academy Awards and the MTV Movie Awards and have been gifted to Selena Gomez, Brandi Glanville and Renee Zellweger. They were also included in exclusive The Artisan Group® Mother's Day and Earth Day Celebrity Gift Bags, delivered to some of Hollywood's most talked about celebrities, including Shakira, Claire Danes, Jessica Simpson and Rachel Wood, Ginnifer Goodwin, Leonardo DiCaprio, Hayden Panettiere, Edward Norton, Emily VanCamp and many others.
SoapyBliss has been featured in Malibu Magazine and on Guliana Rancic's "FabFitFun" blog, where the company was mentioned as one of her favorite Mother's Day presents.
Brunetti, a former cosmetologist, resides in Seattle, Washington. Besides running SoapyBliss, she is a wife and the mother of three. She says SoapyBliss was created out of her love for lotions, potions and all things sugary sweet.
To learn more about SoapyBliss, contact Cindy Brunetti by email, become a fan on Facebook (soapybliss), Twitter (@soapyblissusa) and Instagram (@soapybliss), or visit soapybliss.com. Retail locations interested in carrying SoapyBliss products may contact Cindy Brunetti directly at (866) 875-2497. For press inquiries regarding The Artisan Group®, visit theartisangroup.org.
ABOUT SOAPYBLISS BATH & BODY BAKERY
SoapyBliss Bath & Body Bakery (http://www.soapybliss.com) is a small, family-run business specializing in handcrafted bath and body products. Every product is made in small batches to ensure quality and consistency. We take pride in handcrafting every product. We pack and frost every cupcake, and each bar of soap is created and cut by hand. We use only the finest, freshest ingredients available. This attention to detail produces a truly luxurious product. All SoapyBliss treats are sulfate-free and paraben-free.
SoapyBliss is a proud member of The Artisan Group®.