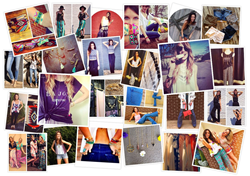 "Now we are excited to expand our offerings in Nashville to include clothing for girls and tweens."
Nashville, TN (PRWEB) May 13, 2015
Soca Clothing is now expanding its inventory of current and classic styles to girls clothing. Soca Clothing now carries girl and tween clothing sizes 6/7–14/16 at its Nashville location.
In addition to clothing, the store sells a wide variety of gifts, jewelry, and accessories. In Birmingham, Ala., Soca Clothing has a separate girls boutique called Soca Girl. As of March 2015, Soca Clothing has brought much of that girl and tween selection to Nashville, too.
"Soca Clothing has always offered shoppers dependable customer service and an exclusive shopping experience," said Jeff and Kathleen Tenner, owner of Soca Clothing. "Now we are excited to expand our offerings in Nashville to include clothing for girls and tweens."
With brands including Ella Moss, Lori and Jane, Elisa B, Tractor Jeans, Pinc Premium, Vintage Havana, Erge, and Kiddo, Soca Clothing has just the right mix of girls clothes for holiday parties, school dances, and everyday school wear.
Known as "the denim destination," Soca Clothing is the place to shop for designer denim. Mothers and daughters can now both find a perfect pair of jeans. Soca stylists are trained and ready to guide shoppers in finding that just-right accessory or item of clothing.
Soca Clothing offers an array of gift items for girls under $20.00. Soca Clothing can also set up a wish list, where girls can walk through the store with one of Soca's stylists and list the things they want and love. Soca Clothing will keep the lists on file for parents, grandparents, or other family members to use when they come to shop for their girls.
Be sure to visit soon to see the girl and tween clothing in Soca's Nashville store. For more information, Soca Clothing invites customers to visit their website at http://socaclothing.com/ or http://socagirl.com, call at 615-732-0990, or stop by the store at Soca Clothing, 2203 Bandywood Dr., Nashville, TN 37215.
Soca Clothing sells chic clothing and premium denim in Nashville, Birmingham, and Tuscaloosa. In addition to women's apparel, they stock a variety of accessories including jewelry, scarves, handbags, and select gift items. Since their first store opened in 2000, Soca Clothing has worked to provide excellent customer service and the best selection possible.