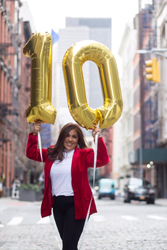 Be Wildly Excited About the Possibilities. - Margaret Brown and SocializeLA.com Crew
LOS ANGELES (PRWEB) December 19, 2018
Hoping this message from Margaret Brown, CEO + Founder of SocializeLA.com, brings you some peace and clarity in your journey of business ownership.
They say starting a business happens for a couple of reasons- desire or necessity.
In 2008 Margaret Hernandez Brown, first generation entrepreneur, with zero business ownership experience, had the desire to venture out and start her own company. With nothing more than an idea, her brain, and the love and support of her friends and family.
"I always had GREAT support around me. I know there were times in those early years where my family was scared for me. After all, I worked day and night and made ZERO dollars. My challenge some days was to not only pick myself up, but to put on a brave smile for my loved ones to tell them it was going to be ok."
10 years in business is no small feat and SocializeLA.com continues to gain momentum, grows in staff and clients, by streamlining and adding new services. We asked Margaret what she had to say to other business owners.
"Do NOT compare yourself to others. Looking at the world for inspiration is one thing. Looking at the world to say to yourself that you're not doing enough is quite another. Too many times you're actually comparing apples to oranges. Stay true to your process and progress. If you feel you need to do more, learn more, and apply yourself - then great! That's according to your meter. Not the worlds. Don't be afraid to admit you're wrong, or to make a wrong - right. You're not perfect, if you make a mistake, recalibrate and move on. Lastly, CELEBRATE the wins, big and small!"
Margaret and SocializeLA certainly have had their share of challenges, from making it through times where she felt lucky to be able to afford a cup of coffee, through making tough decisions on hiring and firing. How did you keep a positive persevering attitude during those times?
"I'm grounded in my values: faith, family, and personal development. Unwavering Faith in my God, leaning on Him for peace, courage, and joy. My family (which also includes my friends) keeps me laughing, having fun, and aligned with my WHY. Personal development is super fun to me. My husband and I share this hobby of loving to learn and grow. It's our favorite pastime to drive and talk about life and goals. This past year I completed a program through MulticulturalWomenLead.org and USC, which has made a HUGE impact on my personal development. Plus, I met amazing women who have brought a whole new element to my life. It was perfectly timed, as I start this new decade of business ownership."
It's not a secret that business ownership can be lonely. Many entrepreneurs feel a bit isolated. Their journey sometimes lacks community. Did you find this to be true? If so, how did you combat that?
"This is absolutely true. Very early on I joined the National Association of Women Business Owners (NAWBO). The women I met through that organization taught me so much. They had been through it. I became a sponge soaking in all their wisdom. I'm still a member to this day and I recommend to all business owners to connect with NAWBO. It's more than networking, it's a community of business owners who know where you're walking. It was the best decision I made for my business. I adore my NAWBO sisters and appreciate those who support NAWBO! It's been my honor to celebrate the growth and success of my NAWBO tribe. We're in this together."
How did you start your company?
"Here's the short answer. When I initially started I was living in New York. Shortly after deciding on this career shift I moved back home to Southern California. One of the first key things that I did, was to reach out for local help. I had NO idea what I was going to find. But I found a gem, I found the Inland Empire Women's Business Center (IEWBC). My business coach Nicole Kinney kept me accountable on all the things I'd say I'd do week after week. She introduced me to NAWBO and to small business life. They're a great organization when you start and support you as you grow. Without the IEWBC I'm not sure where I'd be."
You've shared that seeking resources is important. No need to go at this alone. And you've given us some great groups to check into. You really feel strongly about business community.
"Absolutely, I do. Fairly early in my journey after completing a program through the IEWBC I used the funds they granted me to join the Pasadena Chamber of Commerce. This was yet another catapult. Pasadena Chamber is an incredible inclusive group. They gave me such a warm welcome. I appreciate them so much.
Nowadays I don't get out as much as I used to business events. Much of my business is nurturing my online community and working with my virtual staff. This is how I envisioned my company. I love the business outings but what I'm really passionate about is being a wife (and God willing adding MOM to this list), auntie, sister, grand/daughter, cousin, friend, and youth leader to our Junior High Group. I'm grateful that my business is coming to this place where I dreamed it to be. Able to operate from any where in the world. This makes the events I do attend even more meaningful. You'll always see me at the NAWBO National events."
OK, one last word of advice for us?
"Here's three - Have fun! You're making the rules. Think outside all the shapes. Don't be afraid to try something new. Find a community to mastermind with, and above all keep doing what you love for the reasons that YOU want to be doing them.
Hire awesome people and life is good. I'm so lucky to have the most incredibly team. Dedication, brains, and just all around great people. Keep your pulse on the culture of your company. If you need to shift, shift. Make those hard decisions.
Lastly, from an industry perspective, #FlexYourInfluence. No one is going to do it for you. If you haven't brought your company into modern marketing, now is the time. Digital marketing has a place for all industries and businesses. There is power in getting noticed."
Business ownership has its challenges and it most certainly has its advantages. What a great way to end 2018 with these words of wisdom.
------------------------------------
SocializeLA.com services: outsourced CMO agency, an affordable alternative to hiring a CMO; "Done-With-You" marketing programs that help educate businesses in running their own marketing efforts; and "Done-For-You" marketing packages, which feature a number of impactful choices that combine multiple marketing methods to deliver results.
The SocializeLA team is every part of the foundation of the company. Currently the team is 9 strong and growing as needs arise. In addition to the awesome staff, SocializeLA works with a handful of trusted partners to offer services above and beyond what they do in-house.
Their clients reach across the US and many clients have been with the agency over 5 years.
A recent client remarked, in a five-star review, "I so appreciate SocializeLA. Your experience. Your confidence in my company. Your skill. Your generosity. I'm so happy I found you."
Expect the company to continue to grow, while delivering the best client experience possible, in 2019 and beyond.
For more information be sure to visit https://www.socializela.com.