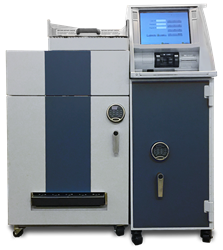 "Our vision goes beyond any one type of product… our business has always been protecting our customers' assets by providing whatever products they need to achieve total security."
MONTEBELLO, Calif. (PRWEB) December 19, 2019
The cash-automation market is a logical step for Socal Safe, which has more than 100 years of experience in the physical security space. Accurate, verifiable cash counting and handling practices are crucial to minimizing shrinkage losses, and also to maintaining robust accounting practices and regulatory compliance, especially in cash-intensive retail businesses. Socal Safe also offers consulting services to its customers, helping them find the right mix of security and automation products to maximize each customer's ROI.
"Our vision goes beyond any one type of product," said Socal Safe Executive VP Greg Pilon. "We've been making safes for 100 years, but our business has always been protecting our customers' assets by providing whatever products they need to achieve total security. We pride ourselves on doing exactly that, while delivering total customer satisfaction." 
Pilon sees AccuCASH Automation Solutions as a natural extension for Socal Safe. "You can have the strongest safe in the world, but managing cash effectively outside the safe is equally important. AccuCASH is the most robust cash verification system we've seen."
Socal Safe will demonstrate the AccuCASH line at the upcoming NRF 2020: Retail's Big Show, January 12–14 in New York, Booth 5779. See the complete line of AccuCASH Automation Solutions at http://www.accucash.com or http://www.socalsafe.com.
Socal Safe Company has been setting the standard for strength, quality, and customer care in the security industry for more than 100 years. Since 1915, the company's goal has been to deliver premium service, with 100 percent customer satisfaction.
To reach cash automation specialist Greg Pilon, please call (323) 203-1609.
# # #