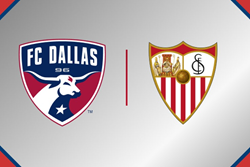 FRISCO, Texas (PRWEB) July 12, 2019
Soccer 90 (https://www.soccer90.com/), a lifestyle apparel store at Toyota Stadium, is bringing more fun to the 2019 FC Dallas Summer Classic presented by Toyota, where Sevilla FC will take on FC Dallas on Wednesday, July 17, 2019 at Toyota Stadium.
From Monday, July 15, through Wednesday, July 17, Soccer 90 will have a three-day pop-up shop featuring exclusive Sevilla FC merchandise. Jerseys, scarves and more from the Spanish giants will be available, along with co-branded scarves featuring both the FC Dallas and Sevilla FC logos. Proceeds from the sales of the co-branded scarves will benefit the FC Dallas Foundation and be used to fund a Mini-Pitch in Dallas/Fort Worth.
Soccer 90 is also giving away a VIP fan experience. Four winners will be selected to receive two tickets to the friendly on July 17, one Sevilla FC jersey, a post-game meet and greet and the option to attend the Sevilla club's morning practice on July 18.
To enter, fans have two options. On Instagram, they can upload one original photo today through 11:59 p.m. on Sunday, July 14, using the hashtag #sevillaFCVIP. On Facebook, fans can complete and submit the form on the Soccer 90 Facebook page: https://www.facebook.com/Soccer90Shop/
Then, on Tuesday, July 16, Soccer 90 is hosting an exclusive autograph session with the Europa League qualifiers. Fans can meet Sevilla FC players from 12:00 p.m. to 1 p.m., along with Reggie Cannon and Edwin Cerrillo from FC Dallas.
Soccer 90 is located at 9200 World Cup Way in Frisco, next to the National Soccer Hall of Fame.
More information about Soccer 90's events and contest for the friendly is available at https://www.soccer90.com/events/sevilla-fc.html
Fans can purchase tickets for the friendly here.
About FC Dallas
A member of Major League Soccer since its inception in 1996, FC Dallas is owned and operated by Hunt Sports Group. The professional team plays its regular season from March to October at Toyota Stadium in Frisco, Texas. FC Dallas won the Lamar Hunt U.S. Open Cup and MLS Supporters' Shield in 2016.
Toyota Stadium is one of the first soccer-specific stadiums built in the United States and is also home to the National Soccer Hall of Fame (https://www.nationalsoccerhof.com), which opened on November 2, 2018. It hosts MLS and international soccer matches, high school and college football games, as well as concerts and other events.
The 145-acre Toyota Soccer Center also includes 17 regulation-sized, tournament-grade soccer fields and is also home to the organization's nationally renowned youth development system.