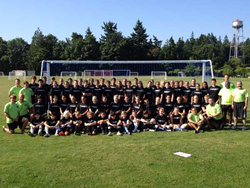 Together we have 90 years of success helping young people discover their full potential
San Rafael, CA (PRWEB) March 10, 2015
Northwest Soccer Camp has partnered with NBC Camps based out of Spokane, Washington. Both companies, coincidentally, opened their camps business and each have continued to serve youth for nearly 45 years.
"This is a perfect fit for our organization moving into the future because of the national and international exposure it provides to help us use our unique method of teaching soccer and character to help more youth reach their dreams," says Cliff McCrath, co-founder of NW Soccer and legendary coach. "Just like NW Soccer, NBC Camps prides itself on running the very best summer sports programs available."
While NBC focuses on basketball and volleyball, NW Soccer brings soccer expertise into the fold.
"Together we have 90 years of success helping young people discover their full potential," says Fred Crowell, Founder and President of NBC Camps.
Northwest Soccer will continue to operate under the Northwest Soccer Camp name providing its great soccer camps, including 6 weeks lined up for 2015. NBC Camps will provide back-end support for NW Soccer including advertising, registration, and administrative assistance. The partnership will open doors for several other locations and camp dates becoming available in the near future throughout the Northwest region.
NW Soccer offers a curriculum featuring world-class goalkeeping and field player training for boys and girls, ages 7-17. Resident camp sessions are filling fast. Day camp slots are available for nearly every camp. Highlights for this summer's program include one of the most acclaimed lineups of current and former players and coaches of any soccer camp, anywhere.
For more information and to register, please visit www,ussportscamps.com/soccer or call 1-800-645-3226
About US Sports Camps:
US Sports Camps (USSC), headquartered in San Rafael, California, is America's largest sports camp network and the licensed operator of Nike Sports Camps. The company has offered summer camps since 1975 with the same mission that defines it today: to shape a lifelong enjoyment of athletics through high quality sports education and skill enhancement.