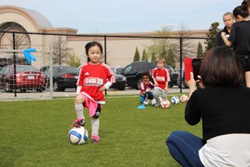 As most parents can readily attest, communications is key to coordinating life both on and off the field, especially when you have multiple children involved in sports and other extracurricular activities. I am super excited about this sponsorship.
Raleigh, NC (PRWEB) April 05, 2017
WiFi calling innovator Republic Wireless announced today that they have joined two youth soccer organizations - US Club Soccer and Capital Area Soccer League (CASL) based out of Raleigh, NC - as the Official Wireless sponsor of both organizations. Part of a new, multi-channel platform, Republic intends to use the sponsorship to demonstrate its commitment to keeping families better connected.
In keeping with the trend of making WiFi free and easily accessible in public places, particularly where families are gathered, Republic's sponsorship of CASL will, for the first time, help bring complimentary WiFi to their facility at WRAL Soccer Park. The soccer park welcomes more than 600,000 visitors each year for practices, games, and tournaments including the Raleigh National Soccer Series which brings in 1,400 teams from across the country.
"It is our goal to make sure our visitors have the best experience at our facility. Amenities like free and easily accessible WiFi are important to our coaches and players who are sharing their experiences across many social channels. And just as important, complimentary and easily accessible WiFi is quickly becoming an essential amenity for our players' families and friends who often spend hours at the park, yet need to stay connected," said Gary Buete, CASL CEO. "We are thrilled to partner with Republic Wireless, a young brand known for pioneering the WiFi-first movement that continues to take the consumer wireless industry by storm."
Team members with both US Club Soccer and CASL will be live streaming and creating behind the scenes content with smartphones powered by Republic Wireless to highlight the special connections between teammates. Together with the organizations, Republic Wireless is planning innovative digital communications initiatives designed to keep players, their families and followers better connected so they stay in the know.
"US Club Soccer is thrilled to have Republic Wireless as our Official Wireless Partner," said US Club Soccer CEO Kevin Payne. "Like us, Republic is an insurgent brand that offers new solutions for consumers. We appreciate that forward-looking approach, and are excited to have a partner as committed to innovation as we are."
"We launched Republic Wireless in 2011 to change the game in consumer wireless by making it remarkably simple and affordable to have a smartphone. This sponsorship is a perfect extension of our overall mission and reason for being," said Chris Chuang, chief executive officer, Republic Wireless. "As most parents can readily attest, communications is key to coordinating life both on and off the field, especially when you have multiple children involved in sports and other extracurricular activities. I am incredibly excited about this sponsorship and the ability to use what we do to help keep these families better connected."
To celebrate the sponsorship Republic Wireless will be offering exclusive offers to members of both organizations throughout the season starting with a $20 service credit for new customers.
About Republic Wireless
Recognized for excellence in customer service by PC Magazine and as the top pre-paid carrier choice by Consumer Reports, Republic Wireless is on a mission to provide remarkably simple and affordable ways to stay in touch with anyone, anywhere, in any way. Headquartered in Raleigh, North Carolina, Republic Wireless leverages the power of both WiFi and cellular networks and gives consumers the ultimate flexibility to manage costs. The service uses WiFi in the home, office or anywhere else as the primary network for calls, texts and data. When outside of WiFi coverage, the smartphone works just like a typical smartphone on the cellular networks of national carriers. Visit http://www.republicwireless.com/ or follow us on Facebook for more information. Media resource center here.
About Capital Area Soccer League
Founded in 1974, CASL's mission is to provide positive, high-quality soccer opportunities at all levels of play for youth and their families and to serve as a valuable community partner. CASL recently announced a collaboration with North Carolina FC and Triangle Futbol Club Alliance to form the largest youth-to-professional soccer club in the country: North Carolina FC Youth. Beginning summer 2017, CASL will rebrand as North Carolina FC Youth – a non-profit youth club that will be home to more than 14,000 youth players from across the Triangle area in North Carolina. To learn more about CASL and North Carolina FC Youth, visit http://www.CASLnc.com.
About US Club Soccer
A National Association member of the U.S. Soccer Federation, US Club Soccer fosters the growth and development of soccer clubs in order to create the best possible environment for players of all ages.
Anchored by Players First and its five pillars of Club Development, Coaching Development, Player Development, Parent Engagement & Education and Player Health & Safety, US Club Soccer offers registration, league- and cup-based competition platforms, player identification and a variety of other programming, resources and services.