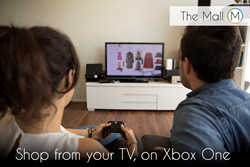 It's really going to enhance the user experience and give both fans and players a reason to shop at SoccerPro.com.
COLUMBIA, MO (PRWEB) December 16, 2015
Launched this holiday season, SoccerPro.com has been included in an innovative shopping experience exclusively through the Xbox One. The new Xbox One Mall was created by Von Bismark along with Powa to allow XBox users a simple one-click purchase process and the ability to virtually try on apparel before they buy. This collaboration means an interactive digital shopping experience for customers that has never been available before.
"The excitement for soccer in the United States is so powerful," says Tony Marrero, Director of SoccerPro.com. "SoccerPro.com is constantly searching for new ways to reach its growing audience. We have seen kids and adults alike get behind the soccer community and support it at a new level. The Xbox One Mall is a fantastic way to connect with all soccer fans."
Eoghan O'Sullivan, CEO of Von Bismark, commented on the importance of including a soccer retailer in the launch of the The Mall, "Once Microsoft had given us their backing to launch the first eCommerce store for physical goods on Xbox One I knew we had to get a soccer retailer on board. With over 5 million soccer gamers already on the Xbox One it's one of the hottest areas of growth. I wanted a retailer who put customer service and product choice first – and SoccerPro.com came out on the top of the list for us. I'm delighted that they came on board and together I think we are going to give Xbox One users the best soccer shopping experience on planet earth!"
With the help of Von Bismark, the main developer of the XBox One Mall, soccer fans can stay excited all season long by buying their favorite jerseys from SoccerPro.com in a new unique way. With the XBox One Mall, fans can "try on" their fan gear from SoccerPro.com before they make the purchase. Using proprietary technology that leverages the Kinect hardware from Microsoft, Von Bismark has created a real world shopping experience for XBox One users to stand in front of their TV and see what the jersey looks like as if they were wearing it.
The next step for the user is making the purchase. The purchase will be done through the Powa phone app using PowaTag technology. Using the PowaTag QR code users can quickly purchase directly from the TV screen. SoccerPro.com will also be implementing the same PowaTag on its e-commerce site to provide the simple one-click purchase option through the Powa phone app.
"It's really going to enhance the user experience and give both fans and players a reason to shop at SoccerPro.com. It will allow us to connect with our customers in a unique way as no one else is offering this kind of enhanced digital shopping experience, which is core to our need to create an awesome customer experience," continued Marrero.
Users can find the XBox One Mall on the XBox One dashboard when they turn on their system. To complete a purchase, customers will need to install the Powa app on their mobile device. Von Bismark, along with SoccerPro.com and Powa, have created a new, unique way to shop on a completely digital platform, revolutionizing the involvement soccer fans can have in the game, making the perfect gift for any soccer fan this holiday season!
ABOUT SOCCERPRO.COM
SoccerPro.com is an online soccer retailer that specializes in providing soccer gear for the player and fan. Regardless of age and ability, soccer players can find the soccer shoes, shinguards, balls and soccer apparel needed to play anywhere at any level. Soccer fans will rejoice in an extensive selection of licensed soccer jerseys from their favorite club and country. SoccerPro.com also features an extensive selection of gear for referees, coaches, and parents. Offering innovative online shopping features combined with easy to understand product information created by true soccer experts, SoccerPro.com dedicates itself to creating the best user experience for its customers. Learn more at http://www.soccerpro.com.
ABOUT POWA TECHNOLOGIES
Powa Technologies is an international commerce specialist that creates technologies that enable a seamless consumer experience across all purchase channels: online, offline and everywhere. With its next-generation solutions PowaTag, PowaPOS and PowaWeb, Powa removes the final barriers to instant global transactions through a revolutionary instant mobile payment technology, the first fully integrated tablet POS platform, and advanced cloud-based ecommerce solutions. Significant investment capital has accelerated company growth, attracting the industry's finest subject matter experts to conceive, build and deploy innovative commerce technology at the heart of both merchants' and brands' future omni-channel selling strategies. Powa Technologies is headquartered in London, UK, with offices in New York, Atlanta, San Diego, Miami, Toronto, Paris, Madrid, Stockholm, Berlin, Amsterdam, Milan, Hong Kong, Taiwan, Singapore and Shanghai. PowaTag In Action - https://www.youtube.com/watch?v=or0L7UnaP6g 
ABOUT VON BISMARK
Von Bismark is a technology company based at 9 Herbert street Dublin 2. It is a Microsoft Bizspark Plus partner in Ireland and is one of only a dozen global Microsoft Kinect development partners. The company is also an Enterprise Ireland HPSU (high potential start up) company. The company was founded in September 2011 by Eoghan O Sullivan and graduated from NDRC's Launchpad 4 program at the end of that year. A D.C.U. graduate with a B.Sc. in Multimedia, O Sullivan was previously the creative director of a digital agency, Pixel Lab and co-founded a global marketplace for 3D content. He has also been lucky enough to have passed through EI's IGAP programme where he was mentored by silicon veterans like Eric Ries and Sean Ellis.