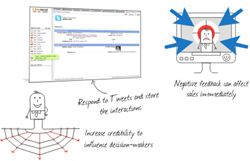 Enterprise CRM solution launched its enhanced social CRM analytics
New Delhi (PRWEB) August 19, 2013
CRMnext, Asia's No. 1 Enterprise CRM solution launched its enhanced social CRM analytics http://goo.gl/AgmBKw with new real time sentiment analysis, ad hoc reports and dashboards. With the new advanced capabilities users will be able to easily collate content from various popular social networking sites related to their brand, product and competitors in the form of listings, reports and dashboards helping in quick response to enhance customer experience.
With the increasing popularity of social networking sites more customers are using these platforms to share their opinions or experiences related to a brand or product. These sites also become a powerful marketing and service platform for organizations. Companies need to constantly monitor user generated content to manage its brands on social sites. The quantity of content generated on numerous social networks makes it difficult to filter and concentrate on critical instances. Analytics of user generated content from popular social networks like Twitter, LinkedIn, Facebook, etc. will be made available to the users on a real time basis.
On the occasion, Dr, Manoj Kumar, Product Architect, CRMnext said, "Social media conversations are becoming critical for brands to gain popularity or lose customers. Effective monitoring, quantifying and prompt actions can help a brand to gain competitive advantage. With the advanced social CRM analytics, CRMnext will help to filter content on basis of certain keywords, rating it and making it available on a single platform to the marketing and service teams for taking action."
About CRMnext:
CRMnext is a specialist Customer Relationship Management product company with focus on ultra-scalable installations. CRMnext team has a proven track record of delivering High-Impact CRM solutions in their key practice vertical of Financial CRM, Banking CRM, Insurance CRM, Media CRM, Pharma CRM, Telecom CRM etc. Unlike commodity CRM, CRMnext has been widely recognized as a proponent of strategy driven implementations.
Subscribe to our blog to keep updated at http://feeds.feedburner.com/HighImpactCrmBlog-Crmnext