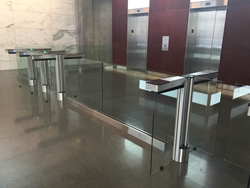 Tech companies have been an important market for us in recent years as they've embraced stepping up physical security and appreciate the high technology in Fastlane
Austin, TX (PRWEB) July 22, 2015
Smarter Security, Inc., provider of premium, innovative entrance control and outdoor security solutions, today announced an established social media company recently installed Fastlane Glassgate® 300 optical turnstiles for a new building in California. Happy with the Fastlane® lanes protecting an existing high-rise, the customer choose to upgrade security to the latest barrier turnstile from Fastlane and enhance visitor management with FastScan™ PS, a unique offering that replaces printed visitor badges with an emailed QR code.
"Tech companies have been an important market for us in recent years as they've embraced stepping up physical security and appreciate the high technology in Fastlane," said Jeff Brown, CEO of Smarter Security. "We frequently have customers purchase again for additional buildings and the path of this customer – from non-barrier to a barrier model – reflects the overall market direction. We are pleased to continue our relationship with this company and to complement their new building lobby with the elegant aesthetics of Fastlane design."
The social media company ordered four lanes of Fastlane Glassgate 300 from Smarter Security to protect the lobby access to the elevators in its new office building in California. Fastlane non-barrier lanes have secured another building for years, and the company chose a barrier model because it desires a higher level of security in 2015. The customer selected Glassgate 300 because of its unique style and pedestal-height barriers for a more streamlined appearance. FastScan PS installed in the lanes will help the company go paperless with visitors at this location, reducing waste and lowering costs, by allowing visitors to pass through the Glassgate 300 lanes using individualized QR codes in emails read from their smartphone screens.
Smarter Security's Fastlane Glassgate 300 is unlike any other turnstile in the industry with a design that eliminates the ends. Combined with the glass side panels and barriers, this creates a more open atmosphere. Security is at a high level as the barriers in heights up to 59" are a strong deterrent, and Fastlane optical technology reliably alarms intruders and tailgaters as close as ¼" apart. Glassgate 300 is an IP-enabled turnstile which can be managed over the web from any PC or mobile device and, using XML data and CGI scripts, can be controlled from within an access control system. FastScan is a multi-reader system for Fastlane turnstiles that, unlike others, is factory-installed and has the full-warranty of the turnstile. Seamlessly integrated, it reads proximity cards as well as printed visitor barcode badges and QR codes from smartphones.
About Smarter Security, Inc.
Smarter Security provides premium and innovative entrance control and outdoor security solutions to help organizations protect their people and assets in a world of ever-present threats. Since 1992, Smarter Security has offered Fastlane turnstiles, the most elegant and intelligent optical turnstiles available, which protect thousands of commercial and governmental lobbies on six continents. Smarter Security also offers perimeter intrusion detection systems, including SmarterFence, a fiber optic fence-mounted sensor. For more information, please visit http://www.smartersecurity.com.
Fastlane and Fastlane Glassgate are registered trademarks of Integrated Design Limited.