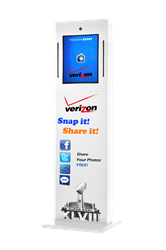 Islandia, New York (PRWEB) February 03, 2014
Along the walk to the Met Life Stadium and within the stadium itself, several Social Shots social media photo booths will be set up for attendees to use at their leisure.
Each social media photo booth allows users to instantly post pictures to various social media sites such as Facebook and twitter, free of charge. Those who wish can also SMS the photos directly to their cell phones as well as email the photos to any email address.
Corporate sponsor Verizon is using this opportunity to leverage social media marketing as part of an overall campaign to extend the reach of the event while increasing brand awareness and keep the brand 'top-of-mind'. Guests share fully branded photos in a fun and relaxed way allowing for great brand introductions to the users core circle of family and friends.
Social Shots sells and rents these social media kiosks across the globe. Each Social Shots social media photo booth for sale comes ready to use and can be set up by any staff members on site. Easy to transport via any major carrier, these great photo booths are frequently seen at in-store promotions, product tours and permanent placement in hotel lobbies, restaurants and the like.
"This is the perfect chance for social media marketing. Each photo booth has capability to capture pertinent user information like demographics, cell phone numbers, emails and more. We can even conduct brief surveys and take video testimonials. This is a great way to extend a marketing campaign for any brand looking to make a splash with an experiential marketing campaign.
Many who use the photo booth opt-in to various marketing campaigns which is great for brands looking to keep in contact with users through on-going re-marketing efforts. It is a true marketing powerhouse tool," said Dennis Carrion, owner of Social Shots.
Those who wish can also further their marketing or sales efforts by bringing on affiliate partners who will share user data and information to deliver more comprehensive offers to users.
"This social media photo booth is sure to be one of the next big thing in on-site marketing and re-branding," said Dennis.
More information on purchasing a photo booth for sale can be found at http://www.socialshots.com.