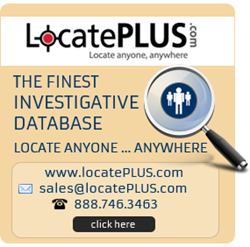 Boston, Massachusetts (PRWEB) July 02, 2014
LocatePLUS, the leading provider of cost effective, personally identifiable information in the US, is proud to introduce the recently approved social media search for attorneys and the legal community. Law firms, district attorneys, judges and more are eligible to take advantage of these valuable reports.
The LocatePLUS social media search can access and aggregate publicly available profiles, basic demographics, profile photos, social influence and more from over 100 different social sites, featuring the most up-to-date information available. Attorneys can turn partial contact information into complete social profile data by searching over 100 Social Media sites simultaneously!
Additional LocatePLUS features can easily assist lawyers for all types of case work and investigations.
A people at work search will instantly find current and historical employment information on your subject that can include names, company names, first and last date seen, position held, phone numbers and addresses.
Voter registration searches will access current and historical voter information and typically include occupation, gender, political affiliation, DOB, address, and voter status.
Complimentary VIP training and customer support are included with every subscription to guarantee a successful user experience.
Credentialed businesses skip trace professionals, law enforcement, collection services, attorneys, bail bondsman, financial services, casinos, bail bondsman, housing authorities, repossession companies and private investigators use LocatePLUS every day on their most difficult cases. Qualified applicants will appreciate the industry's most powerful search technologies. Search results include arrests, warrants, instant criminal, traffic, sex offenders, OFAC and patriot act.
The redesigned LocatePLUS website and data access system includes over 40 searches, the latest databases, risk management tools, new reports, easier navigation, Google integration, greater functionality, quick tips and much more.
LocatePLUS affordable/no annual contract pricing options feature a wide array of new user interface features, over 18 new searches and reports, VIP training, SSN verification, skip tracing tools, quick connections to skips, and included unlimited searches*.
Consistent Praise for the LocatePLUS Website and Customer Support:
"Your customer service person, Laura, gave me service above my expectations. She spent extra time with me to explain something I didn't understand and signed me up for training. I was very appreciative of her time on my behalf." – Phil D.
The search results include full SSNs, DOBs, MVR, people, assets, licenses, court records (criminal/civil), phones, prior residences, real estate holdings, recorded bankruptcies, liens, judgments, businesses, and more in a secure, interactive, searchable database.
About LocatePLUS: "Solve More Cases"
LocatePLUS, located in Boston, Massachusetts is the nation's leading provider of accurate, complete and cost-efficient investigative information and reports on a majority of the U.S. adult population. Our proprietary online skip tracing database can be used wherever there is an Internet connection, whether in an office or on a mobile smartphone or tablet device. Subscribers have instant access to America's #1 person and cell phone search. Investigators benefit from billions of updated online public records to conduct person, phone, address, email, social security, civil records, criminal background, property, assets, licenses and motor vehicle searches.
Investigative industries including law firms, attorneys, process servers, bail bondsmen, detectives, financial services, repossession agents, private investigators, law enforcement and qualified businesses can take advantage of a wide range of the LocatePLUS customizable due diligence tools and comprehensive reports.
For more information, call 888-746-3463 or visit the Company's Website at: http://www.locateplus.com
Background Checks: "Professional Employee Screening"
Background101.com FCRA certified employment background screening is available to qualified applicants. Background101 has been a leading provider of background screening information for more than 15 years. Please contact sales@background101.com for more information.
*Additional Fees May Apply. Terms, conditions and subscription details are subject to change without notice. Please contact sales or customer support for the latest information, free training options and package details.