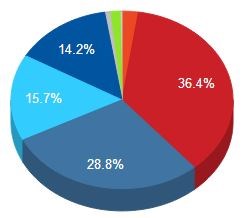 I've seen some interesting data, that definitely provides insight as to which social networks are more popular with my audience
Boston, MA (PRWEB) August 30, 2013
Scrub Couture has been using a social sharing widget on it's e-commerce website and seen interesting results. After months of accrued data thanks to their robust analytics the proof is definitely in the pudding! With stats showing hundreds of social shares, driving even more clicks and resulting in awesome sales.
"I've seen some interesting data, that definitely provides insight as to which social networks are more popular with my audience." quotes Danny Moore owner of Scrub Couture. With the data it's interesting to see which networks see more activity although that doesn't necessarily mean more revenue. For instance Pinterest sees the most engagement per pin, even though Facebook is shared too more often. Another great stat shows that email is almost as popular of a sharing source as Facebook although some digital marketers neglect it.
"I think the fact consumers find a great product at a great price, makes them want to tell their friends." quotes Danny Moore. Scrub Couture is heavily engaged in social media, attempting to share not only products, but fresh, relevant and engaging content. Scrub Couture can currently be found on Facebook, Pinterest, Twitter, Instagram, Google+, WANELO, Tunblr and their Blog.
Almost any product is shareable to all the popular social networks via the widget on each product page. Consumers are also rewarded for sharing via one of the social media channels with a coupon for a dollar off the order. Incentivized sharing is a great way to help spread the word about your products or services in an already very crowded digital world.
This is just one example of unique ways to tie social into your business and humans are social by nature! Feel free to visit Scrub Couture and share some products with your friends today.
Scrub Couture is a leading international distributor of todays top brands in medical apparel since 2008 shop with us online at http://www.scrubcouture.com or in person.
Scrub Couture
34 Monk Street
Stoughton, MA 02072
By Danny Moore