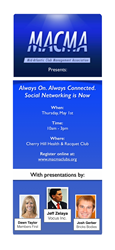 I am looking forward to speaking with the MACMA. This will be a very energetic event with lots of great content and some really amazing speakers. - Jeff Zelaya
Cherry Hill, NJ (PRWEB) April 30, 2014
The Mid-Atlantic Club Management Association (MACMA) is hosting it's "Always On. Always Connected. Social Networking is Now." event at the Cherry Hill Health & Racquet Club on Thursday, May 1 from 10 a.m. to 3 p.m.
This event will include three dynamic presentations from top social media marketing experts including:
Josh Gerber from Brick Bodies
Dawn Taylor from Members First
Jeff Zelaya from Vocus
Topics that will be covered include: Facebook Pages, Twitter, Publicity, Content Marketing, Social Selling, Email Marketing, LinkedIn and How to Incorporate Social Media into a Marketing and Sales Strategy.
In addition to the presentations from the social media speakers, there will be guided round-table discussions and lots of networking opportunities with vendors, peers and the members of the MACMA. Lunch and parking is included in the registration and spots are limited. You can register by clicking here.
The event is open to MACMA members and non-members.
About MACMA:
The MACMA is a professional network of athletic, health, fitness, racquet and sports clubs throughout Maryland, Virginia, Washington DC, Delaware and Pennsylvania and New Jersey. Founded in 1986 by a group of local club owners, MACMA's mission is to address the needs of the industry at a regional level and to promote the interests of the industry within the region.
About Jeff Zelaya:
Jeff Zelaya is a social selling expert, marketing consultant and a professional public speaker who has presented at 55 events in the past 3 years. He's the #1 most recommended sales professional on LinkedIn under the age of 30 and generated over a million dollars in revenue in 18 months by only using LinkedIn for lead generation. Jeff works at Vocus and is an award-winning sales executive and sales trainer.