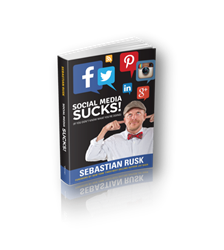 'More than that I hope that my story resonates with people and encourages them to pursue their dreams,' said Sebastian Rusk, Author of Social Media Sucks! (If you don't know what you're doing)
Miami, Florida (PRWEB) April 10, 2014
Sebastian Rusk, social media strategist and founder of SocialBuzzTV.com, releases his first book Social Media Sucks: If You Don't Know What You're Doing in April 2014. The book guides readers through Rusk's journey of creating a brand using social media, as well as shares case studies and personal experiences of how to best create and implement effective social media strategies.
"By writing this book I wanted to leave a legacy, not only to share my story of how I created my brand and my business from nothing, but to also help people better understand just how important social media is and the tools that are right at your disposal to build a brand. More than that I hope that my story resonates with people and encourages them to pursue their dreams," said Rusk.
Social Media SUCKS recounts how Rusk started his professional career in sales, up until leaving the flailing mortgage industry in 2008. Although the experience left him searching for a whole new industry and career, the role set him up to later become successful as an entrepreneur and businessman due to his level of perseverance and ability to never give up.
With that perseverance along with resourcefulness and creativity, Rusk created his new brand and founded SocialBuzzTV.com agency with little more than a flipcam and a bus pass. He would attend events around town, film them and create video recaps in hopes the event producers would share with their network. He leveraged the power of social media and new media platforms such as YouTube.com and Facebook.com to establish himself and reach his own audience. Soon he realized the importance of bridging the gap between online and offline social networking, and began hosting his own events where he could promote his new agency and clients.
Rusk also discusses the birth of the bowtie in developing his brand, which has helped him stand out in the industry. He is quick, however, to note that the bowtie is not in fact his brand but an extension of his brand.
Social Media SUCKS helps the reader better understand how to apply social media strategies in business by featuring case studies from several large, well-known brands, such as Starbucks and Zappos, as well as examples from Rusk's own clients and personal experiences. "Social media is no longer a 'should'; it is a 'must' for your brand. If your company does not have a social media presence, I'll bet that in the next 36 months you won't be in business."
He also quotes and shares stories of personal experiences with many of the top social media influencers that have shaped his career. In one particular instance, Rusk recounts how he met Gary Vaynerchuk during Vaynerchuk's book launch and interviewed him for a video piece. "This was a pivotal moment for me because Gary was and still is, the quintessential authority on how to build your brand from nothing but social media. He's also a role model in the industry because he does social marketing right: he shares valuable information with his fans and clients and engages in conversation with them, and then asks for something in return. Gary really practices what he preaches," said Rusk.
The book's foreword is written by New York Times bestselling author Jay Baer, social media strategist, speaker and author of Youtility: Why Smart Marketing Is About Help Not Hype, who wrote: "What you'll realize when reading Social Media Sucks is how intuitively and effectively Sebastian utilizes offline, face-to-face exchanges to build and expand his platform. Whether it's his extremely recognizable personal branding 'hook' to get you to remember him, his use of video interviews to get him into your inner circle, or his ability to walk into a nail salon and sell the owner a framed Monet poster, Sebastian demonstrates the power of in-person, and shows you how to do it for yourself."
Social Media SUCKS will officially launch in Miami in May 2014 and Rusk will do a multi-city book tour throughout 2014. For an updated list of cities and dates, please visit http://SebRusk.com/Book.
About Sebastian Rusk
Sebastian Rusk is a social media strategist, speaker and writer, and founder of SocialBuzzTV.com, an integrated marketing solution that helps businesses build online communities using social media to create social buzz and local celebrity over their products and services which increases their online presence and word of mouth marketing so they have more customers and die-hard fans. To learn more and to access a digital press kit, please visit http://SebRusk.com. He is also available on Twitter and Instagram at @SebRusk. Follow Social Media SUCKS on Twitter at @SMSucksBook or with the hashtag #SocialMediaSUCKS.
About the publisher, Advantage Media Group
Advantage Media Group is an international publisher of business, self-improvement and professional development books and online learning. Advantage is dedicated to helping entrepreneurs, professionals and speakers write, publish, monetize and market their books and content to grow their businesses. Advantage has one mission: to share the stories, passion and knowledge of our authors to help others Learn & Grow. A pioneer of author-centric publishing, Advantage provides authors a full range of services and expertise including book writing, book publishing, electronic and digital platforms, distribution, marketing, and sales to over 25,000 bookstores and retailers around the globe. Advantage is also a leader in online learning: crafting curriculum, courses and online platforms for authors & experts, professional associations and corporations.
More details are available at advantagefamily.com.