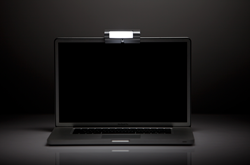 Chatlight® can provide users of video chat with a simple solution to look their best with balanced, flattering lighting.
Delray Beach, Florida (PRWEB) February 24, 2015
Today is the day that everyone will see each other in a new light with the launch of Chatlight®, an innovative product inspired to transform the way video chats are experienced. The mother company, Glowzi, founded by professional photographer Henry Geddes and innovator Ian Shiell, is pioneering an entirely new space in Social Lighting. Glowzi is launching a line of Social Lighting products starting with their 4 year project, Chatlight®, that will change the way people see themselves online.
Glowzi's game-changing lineup includes their marquee product Chatlight®: the professional studio born lighting device that combines balanced lighting in a simple, elegant sleek design. The universal setup allows users to enjoy better lighting on a laptop, smartphone or tablet.
"We believe that if you have the right kind of lighting that illuminates your face in an even tone, you can reduce shadows and thus wrinkles without blinding the user," said Henry Geddes, founder and CEO, Glowzi. "Chatlight® can provide users of video chat with a simple solution to look their best with balanced, flattering lighting."
In 2007, Geddes filed for the necessary intellectual property when he noticed extremely poor lighting while Skyping with his friends and family. "I saw a major flaw in video chat that could be easily corrected with correct lighting. Since 2007, laptop makers continue to build in better web cameras, but they continue to miss the most important element, good lighting."
Geddes' experience with lighting is quite impressive with a Who's Who list of clients including: Nike, Porsche, Neiman Marcus, Barneys, Calvin Klein, Warner Brothers, Macy's, Vogue, Elle and W. "I have spent the last 15 years of my life lighting up some of the world's largest companies. Now, I want to turn my efforts to lighting up the Internet through brighter video chats and selfies."
With over 2 billion people using video chat today, there is no shortage of consumers on the Internet that are in need of better lighting.
Chatlight's recent launch on Kickstarter is the first of many new lighting devices that Glowzi has in the works. Later this year, Glowzi says they have collaborated with a leading audio technology company and will be releasing Chatlight® V2 with built in audio. Glowzi has also hinted at another Social Lighting project with the recent acquisition of SelfieLight.com.
ABOUT GLOWZI
Glowzi, founded by Henry Geddes and Ian Shiell, is a technology company pioneering a new space called Social Lighting. Glowzi's mission is to create universal lighting products designed for laptops, smartphones and tablets, which will provide the proper lighting for social media platforms. Find Glowzi online at http://www.chatlight.com and through social media @Chatlight.
###