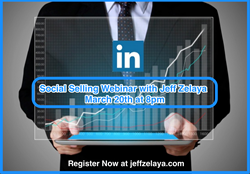 "Social Selling is leveraging your personal brand with a marketing and sales strategy that leads to better business relationships first and increased sales second" - Jeff Zelaya, Social Selling Expert and LinkedIn Speaker
New York City, New York (PRWEB) March 25, 2014
According to Marketing & Sales Consultant, Jeff Zelaya, "Social Selling" is more than just a trending sales 2.0 buzzword. Jeff believes that Social Selling can empower sales people to find better quality opportunities, gain valuable key insights and practically eliminate cold calling.
"The bottom line is that if you are a sales executive, leveraging social selling will increase your leads, your revenue and profits. But many sales people still aren't using it because they don't know 'how to' and that's why I wanted to do this webinar to teach them the 'how'," says Jeff Zelaya.
The Aberdeen group has done research on Social Selling and like Jeff, has also found that social selling can increase customer renewals, team quota attainment and the likelihood of sales people hitting quota.
In his Social Selling Webinar Jeff confessed that by using LinkedIn he was able to generate $1.2 million in revenue in an 18 month period. The same year that Jeff began using "Social Selling" the agency he was working at became one of the top ad agencies in the country according to AdAge.com. He then moved into Software Sales and in his first year made it to President's Club and won the Rookie of the Year award. "Social selling definitely helped me out a lot in hitting my goals," said Jeff.
When asked how we would define "Social Selling" Jeff answers, "Social Selling is leveraging your personal brand with a marketing and sales strategy that leads to better business relationships first and increased sales second."
"First it was door to door, then the phone, then email and now social media. Don't get me wrong, all those other things are still essential but social media is another valuable tool to add to your toolbox. By embracing social media and understanding how to use social selling you will improve your overall sales results and be ahead of the curve."
Jeff also adds, "My advice: Do it first before your competitor does it and steals your book of business."
Want to learn the fundamentals to social selling in this free webinar with LinkedIn expert and marketing consultant Jeff Zelaya?
You can watch the LinkedIn webinar replay on YouTube for free: https://www.youtube.com/watch?v=RKY5gSnsf48.
About Jeff Zelaya:
Jeff Zelaya is a marketing, sales and public relations consultant. He's a professional public speaker and founder of South Florida's leading speakers' bureau. Jeff works at Vocus and is an award-winning Sales Executive for this publicly-traded cloud-based marketing and public relations software company headquartered in Beltsville, MD. Jeff, his wife Emma and his newborn son Elijah currently reside in the Washington D.C. area.