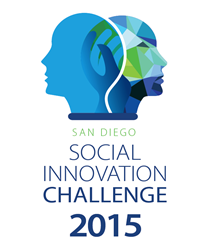 The 2015 Social Innovation Challenge Judges Select Winners April 28th. The SIC Awards take place May 1, 2015 - Top talent to take 75K.
San Diego, CA (PRWEB) April 24, 2015
Top student social innovators from the University of San Diego and other San Diego area universities, including UCSD and SDSU, will pitch their impact ideas on April 28 to judges from prominent local, national and nonprofit companies for an opportunity to win $75,000 in seed funding in the 5th Annual Social Innovation Challenge 2015.
The 2015 Social Innovation Challenge finalists have proposed unique social venture ideas addressing a diverse range of issues including poverty, education, economic development, health and technology.
Project finalists include:
Bystanders to Upstanders, a project in the San Diego Track from University of California, San Diego students, is a smartphone app that connects socially conscious organizations, charities and volunteers in a central community and engages them to solve greater societal problems at the local level.
Foxbat Dynamics, a project from USD engineering students, aims to develop 21st century robotic technologies to improve emergency services and public safety.
Smarty Pants Wear, a project from School of Business Administration students at USD, is an ethical fashion company that empowers girls around the globe through education.
East African Fellowship Program by C.U.R.E. Africa, a project from San Diego State University students involved in the Zahn Innovation Center, is a community-based scholars program designed to curb the challenges facing East African youth in San Diego by bolstering college preparatory support.
More details about all 16 finalist teams can be found on the Social Innovation Challenge Showcase Page.
The Final Pitch Judging is open to the public and will take place on April 28 from 10 a.m.-4:15 p.m. in the Joan B. Kroc Institute for Peace and Justice at University of San Diego. Student teams will have six minutes to pitch to judges representing companies such as Qualcomm Ventures, Project Concern International, Moxie Foundation, the Kimberly Clark Corporation, StartMeUpLIVE and more.
Judges will determine how to award $40,000 of seed funding to University of San Diego students in the USD Track and $35,000 of funding to students from other schools in the San Diego Track. Visit the CPC Website for more details about the Final Pitch Judging.
Award funding will be announced at the 5th Annual SIC Awards Ceremony on May 1, 2015, when each finalist team will give a 90-second fast pitch and have an opportunity to win an additional $1,000 in the Live Audience Choice Award.
The May 1 SIC Award Ceremony will also feature Spotlight Speaker Alicia Wallace, COO of All Across Africa, who will share her journey as a social entrepreneur and the power of business as a force for social change, justice and peace. The award ceremony event will be curated by Cheryl Goodman, host of StartMeUpLIVE.
The SIC Award Ceremony is free and open to the public. Seating is limited; RSVP at the SIC Event Pag e.
For more information about the Social Innovation Challenge visit http://www.sandiego.edu/cpc/sic/index.php.