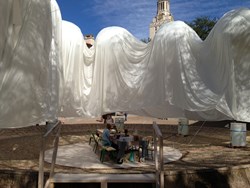 The outcome was phenomenal! Not only was it a beautiful space, but many people came out to study, create art, engage each other in conversation and share meals with each other.
Austin, TX (PRWEB) November 01, 2013
Two Austin architects used unlikely materials to transform an empty outdoor space into an ethereal floating social forum. Dan Cheetham of architecture firm Fyoog collaborated with fellow architect Michelle Tarsney to bring a truly unique display, called Social Helium, for the launch of CURTAINS, a project by The University of Texas at Austin's Center for American Architecture and Design (CAAD). Cheetham and Tarsney floated an oversized curtain 22 feet high with eight-foot helium balloons that were anchored to create an illuminated pavilion for friends to gather in an area of campus that otherwise receives fleeting interest. The purpose was to create a temporary, dramatic and unexpected public space that encourages community gathering.
"In this day of social media and digital communication, physical relationships and experiences are becoming less frequent. Yet, innovation is often a product of interpersonal and serendipitous collaboration. We used art and architecture as a catalyst to provoke the synergies of the University community by creating an dynamic public space made from unexpected materials," says architect Dan Cheetham. "The outcome was phenomenal! Not only was it a beautiful space, but many passersby came to the space to study, read, draw, eat, and talk. A couple of classes also took advantage of the installation and held discussions within the space."
As expected, a project of this magnitude did not come without obstacles. Social Helium's installation was originally scheduled for October 14, 2013, but due to heavy rains and strong winds, the installation was postponed until October 17. An opening party for both students and the general public kicked off the installation. Attendees could meet and discuss the project with Cheetham and Tarsney while enjoying refreshments and appetizers. Later that evening, Cheetham and Tarsney invited their friends and family to dine at a table beneath the curtain.
According to one student, "The space is so beautiful! I wish the campus had more spaces like this that encouraged public gathering."
Social Helium was one of six selected from more than 160 proposals in an international competition sponsored by The Center for American Architecture and Design (CAAD). Social Helium formed part of CURTAINS, a multi-site installation, exhibition, and publication event designed to explore the use of fabrics in contemporary art and architecture in various indoor and outdoor spaces.
To learn more about Social Helium, visit http://www.fyoog.com.
The philosophy behind Fyoog is to show how incorporating beautiful architecture, design, art and functionality to any space allows it to become useful again. Previously, Cheetham's career was principally at large architecture firms, bringing him to work for world-class clients in New York City, London, Shanghai and San Francisco. The University of Texas graduate now lives in Austin with his wife, where he enjoys being able to lead projects and offer a holistic approach of incorporating his background in music and art with his expertise in architecture.
To learn more about Fyoog's upcoming projects, visit http://www.Fyoog.com.
About Dan Cheetham (Fyoog)
Dan is an architect with over 25 years of experience. Dan has worked globally on architecture and planning projects focused in the public realm. He was born to a family of classical musicians and was awarded a scholarship to music school. It was then that he discovered a passion for architecture and the connection between the built environment and the arts. For him, architecture is a way to engage people within the creative process.
For over two decades, Dan led world-class projects and teams in New York, London, San Francisco, and Shanghai, most recently as partner at Steinberg Architects and SMWM in San Francisco where he was a Design Director. Dan brings this experience to his own company, Fyoog.
Fyoog (http://www.Fyoog.com) is an architecture, planning and design firm borne out of Dan's love for music, passion for fine arts, and his unique vision of their application to the built environment. He seeks to compose rich architectural compositions that incorporate other art forms and frequently collaborates with other artists, designers, and creative minds. Dan's work takes many forms including large urban planning projects, commercial and institutional repositioning, historic and adaptive reuse, educational environments, as well as small sculptures, outdoor spaces, and temporary installations.