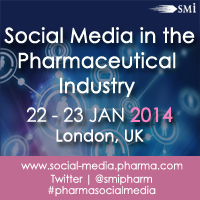 'Social Media is as relevant for Pharma as for any other industry...the discussion will not disappear. This is why we need to listen to it and engage in the dialogue whenever we can.' - Piotr Wrzosinski, Project Manager Social Media, Roche
London, UK (PRWEB UK) 31 October 2013
The updated agenda for Social Media in the Pharmaceutical Industry 2014 will feature new speakers from Inspire, who will be discussing online patient communities, Novo Nordisk, who will address how to build a successful digital strategy and Boehringer-Ingleheim, who will be providing updates on adapting the latest social media techniques.
Other keynote presentations will include:

Todd Kolm, Vice-President, Head of Global Digital Strategy, Sanofi
Sherri Matis-Mitchell, R and D, Astra Zeneca
Claire Perrin, European Brand Leader, Lilly
Shona Davies, Communication and Programme Leader, Merck & Co
Piotr Wrzosinski, Digital Marketing, Roche
James Finney, Project Manager, Global Comm. Services, Novozymes Biopharma
Alexandra Fulford, MD Consultant, Pharmaguapa
Gary Monk, Strategy and Innovation Consultant, HAVAS LYNX
Sébastien Cros, Corporate and Digital Communication, Manager, Galderma
Click here for full speaker line up and brochure
This sell-out series be focussing on developing communication and engagement throughout the pharmaceutical industry and will address:
Best Practices – a forum for attendees to share ideas to identify cutting-edge developments including leveraging social intelligence, digital channels, mobile apps, measuring success and building communities to strengthen competitive position.
Consumer Marketing – analysis on how organisations can use Social Media to better communicate and interact with stakeholders for unique positioning and higher ROI.
Social Strategy – case studies from major pharmaceutical companies on applying practical social media strategies with a focus on content, platform selection and workflow.
Customer Loyalty – presentations on how to enhance dialogue to ensure customer loyalty in an increasingly competitive environment.
Panel Discussion – round table discussion led by Merck, Boehringer Ingelheim, Lilly and Pharmaguapa on online product reviews and how to minimise risk.
To learn more, please visit the conference website for a full list of speakers and agenda at:
http://www.social-media-pharma.com.
Social Media in the Pharmaceutical Industry
22 – 23 January 2014
Marriott Regents Park Hotel, London UK
#pharmasocialmedia