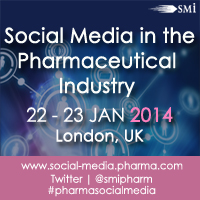 London, UK (PRWEB UK) 11 September 2013
The sixth instalment will aim to focus on stakeholder engagement, best practice and deliver keynote addresses, case studies and interactive workshops on developing communication throughout the industry. Click here today for a sneak peek into the 2014 agenda!
Previous instalments received positive feedback from within the industry including "good quality speakers, approachable, great case studies" – Astellas, and "I can definitely take away some excellent information and case studies" - Amgen
The Social Media Event Will Aim to Allow Delegates To:

Learn about the cutting edge developments in social media including personalised marketing techniques, mobile platforms, remote monitoring and open stakeholder engagement.
Share ideas with leading technology providers; discuss the industry requirements and learn what technological solutions are available.
Hear how major pharmaceutical companies are actually applying the latest developments in social media in a practical way.
Analyse how social media will allow your organisation to better communicate and interact with your stakeholders.
Key Speakers for 2014 Will Include:
Todd Kolm, Vice-President, Head of Global Digital Strategy, Sanofi
Sherri Matis-Mitchell, R and D, Astra Zeneca
Claire Perrin, European Brand Leader, Lilly
Shona Davies, Communication and Programme Leader, Merck & Co
Piotr Wrzosinski, Digital Marketing, Roche
Gizem Bicakci, eMarketing, Boehringer-Ingelheim
James Finney, Project Manager, Global Comm. Services, Novozymes Biopharma
Delegates will also have the chance to take part in two interactive post conference workshops. One will be held in association with PA consulting Group on "unleashing the power of social intelligence" and the second will be hosted by Havas Lynx and will involve group exercises and provide interactive group case studies.
For further information, visit http://www.smi-online.co.uk/goto/2014social-media-pharma7.asp.
Contact Jon Collins on +44 () 207 827 6734
Social Media in the Pharmaceutical Industry
22-23 January 2014
Marriott Regents Park Hotel, London UK
@SMiPharm #pharmasocialmedia