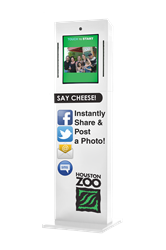 Islandia, NY (PRWEB) February 04, 2014
Social Shots sells social media photo booths that are mobile and have plenty of features to get businesses and brands in front of more people.
The Social Shots social media marketing kiosks will be on display at the Nightclub & Bar Tradeshow & Convention in Las Vegas, Nevada on March 25th – 26th.
Each social media photo booth can be branded with vinyl graphics to match a particular business and location easily fitting in with the look and feel of any business. The best part however lies in the technology behind the photos.
"Our new software allows for instant upload to social media sites such as Facebook and twitter as well as sharing via email and SMS text messaging," said Dennis Carrion, owner of Social Shots.
Each user who wishes to have their pictures on social media or sent via text will have to include some information such as cell phone numbers and or email addresses. This is perfect information for the business owners who can use this information for permission-based email and text blast campaigns.
"When you have a customer your best dollars are spent on keeping that customer and having them do the promotion work for you. The kiosks accomplish just that. It's truly the new word of mouth of advertising while also keeping them involved with the brand via follow up marketing campaign, coupons and promotions, all designed to consistently generate more leads, visits and customers! It's an amazing marketing powerhouse," said Dennis.
"The kiosks will also automatically prompt users to like the business page of the kiosk owner. Now, the owner can send additional special coupon offers, discounts, deals, events and more for customers and their friends or followers right on Facebook and Twitter," said Dennis.
When you buy a photo booth with such social media capabilities, it functions as an independent marketing consultant while simultaneously making money for the business.
Each kiosk is completely portable and easy to set up. This means moving the kiosk from one location to another is simple. Setup at the new place only takes a few minutes and many owners leave the kiosk at stationary locations such as waiting areas, lobbies and high traffic hallways or other areas.
"The real beauty of the kiosk lies in the software and marketing. No longer do business owners have to worry about trying to get information from their customers. The customers are providing it freely when they use the kiosk. This even extends to asking short question surveys. We have one restaurant chain that asks customers what they'd like the special for the next week to be! It's instant quantifiable feedback!" said Dennis.
Dennis sells his kiosks and photo booths for sale through his website. Visit http://www.socialshots.com for additional information.