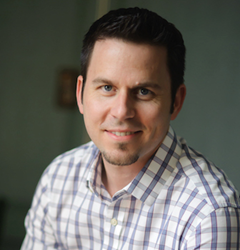 7Summits is committed to our role as leaders in digital transformation
Milwaukee, WI (PRWEB) November 07, 2016
7Summits is super-charging their award winning Salesforce product development team and nailed it by hiring Salesforce MVP, Phil Weinmeister. The Carnegie Mellon University Graduate holds 7 Salesforce certifications, and is the author of Practical Salesforce.com Development Without Code: Customizing Salesforce on the Force.com Platform. The software industry manual holds a 4.9 star rating on Amazon.
During an interview at 7Summits corporate offices in Milwaukee, Phil expressed his excitement on becoming a Salesforce Product sherpa, "I chose to join the 7Summits team for their deep social/communities expertise, engaging culture and dedication to developing innovative products on the Salesforce platform." He went on to talk about his role as Senior Director of Product Management, "The leadership team has a clear and captivating vision for success and I'm extremely excited to be a part of the 7Summits journey."
7Summits made headlines last month with the launch of PartnerFirst, the first Partner Relationship Management (PRM) template for Salesforce's new community platform, Lightning Bolt. By leveraging the deep industry knowledge of Salesforce partners like 7Summits, Salesforce Lightning Bolt offers pre-built community templates, curated for specific industries and business processes.
"We're committed in our role as leaders in digital transformation and our focus on Salesforce product development. Phil is a big part of that plan, and an exciting addition to industry thought leaders here at 7Summits." said Ted Colpo, COO, 7Summits.
In addition to PartnerFirst, 7Summits offers templates and accelerators for customers and employees, enabling even companies with modest budgets to leverage the powerful outcomes online communities provide.
About PartnerFirst
With PartnerFirst, companies are now able to take control of their complex partner networks, with a revolutionary community-based PRM community template. Connect, engage, and manage your partners in a whole new way with 7Summits PRM community solution, PartnerFirst. Partner managers can begin focusing their energy on those partners and activities, which will have the biggest impact on partner success and bottom-line results. Learn More
About Salesforce Lightning Bolt
Salesforce Lightning Bolt leverages the power of the Salesforce platform and the extensive Salesforce partner ecosystem to deliver best-in-class Salesforce Bolt solutions. By leveraging the deep industry knowledge of the Salesforce partner ecosystem, each Salesforce Bolt solution is pre-built and curated for a specific industry and business process
About 7Summits
7Summits is an online community solutions provider that brings together strong business acumen and strategy, award-winning creative, best-in-class technologies and community services to digitally transform the way businesses engage with their customers, partners and employees. Our mission is to create online community experiences that transform businesses and enhance people's lives. We help clients across a variety of markets create successful, measurable social business strategies and game-changing social experiences.