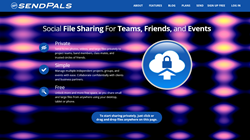 Palo Alto, CA (PRWEB) July 31, 2014
Hollywood insiders breathe a sigh of relief having just discovered a new and secure way to send large files online. While in its beta stage, the social file sharing platform SendPals, reports that Hollywood's videographers, photographers, and other creative talent literally began begging to sign up for the world's first social file sharing platform. They wanted a spot alongside Emmy award-winning video producers, music bands, designers, engineers, architects and renowned artists. Today with its official launch, the formally beta run platform that spread like wildfire throughout Hollywood's creative industry is now open to the public.
"If you take look at the list of people who joined SendPals during its beta stage, it appears we've been taking Hollywood by storm," remarked Matt Oberdorfer, Co-Founder and CEO of SendPals. "And it makes sense, since large video, photo and audio files are at the core of the film industry. Those files are exactly what we help transfer for this unique community more efficiently than anyone else. It's a perfect combination."
SendPals is the world's first social file sharing platform that combines the best aspects of private file sharing with a private social media platform. SendPals allows creators of large files such as hi-res photos, graphic files, videos or other documents to send them both to individuals and to distinct closed groups. This makes creative collaboration personal, easy and fun. Throughout its beta phase, SendPals was offered by invitation only but on July 31st that changes. Now, the social file sharing revolution is open for everyone to explore and enjoy.
Redefining the industry, SendPals is a big break from traditional file sharing companies of the past. It's unique social networking user experience designed for numerous independent project teams completely changes the file sharing paradigm. But unlike any social networking site, SendPals's architecture is designed to share extremely large Tera Byte size files.
Adding to today's launch, the company also announced their Frequent Sharer Rewards Feature. SendPals rewards more active members with more free storage space. Sign up is free and active users can earn up to 25 GB. Oberdorfer adds, "Initially as a new user you'll unlock 5 GB just by joining SendPals. As you invite more people, start new groups and share more files, you're rewarded additional chunks of 500 MB, 100 MB or 5MB of space. It's really about putting artists and other creative people back in control of their intellectual property and privacy."
The SendPals system ensures all data transfers are protected by 2048 bit SSL with a 256 bit encryption along with self-expiring links for confidential file access. This goes a very long way towards guarding that files are only shared securely with the intended recipients, each and every time.
As a testament to SendPals commitment to putting privacy concerns at the forefront, the system has no scan bots digging through images, videos or social connections. Data is not shared with people who "may know you," "tag you" or who want to "friend you." These features are a particular hit with users. Oberdorfer reports that positive feedback continues to pour in. He says, "It's clear this is just going to continue now that the virtual doors are open for more and more people to see the innovative social file sharing site first hand."
For more information and to sign up, be sure to visit https://www.sendpals.com.
About SendPals
SendPals is a Palo Alto-based angel-funded startup that provides the world's first social private file sharing service to creative professionals with large files to share with project teams, circles of business partners or friends.