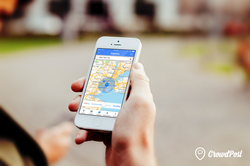 CrowdPost has the potential to intersect users' offline and virtual lives—bringing them closer together "in real life"
New York, NY (PRWEB) January 28, 2015
CrowdPost hopes to build offline communities using online technology. "It has the potential to intersect users' offline and virtual lives—bringing them closer together "in real life," says founder Ilfan Radoncic.
In a traditional social network, the user must find or provide some context, e.g., friendship, membership, or a common interest upon which to connect with other users. Where social networks like Facebook and Twitter connect users based on their relationships or common interests (e.g., Facebook Friends or Twitter Followers), CrowdPost connects users based on their proximity to each other.
The app utilizes iOS' Location Services to curate posts via post feeds specific to physical locations. CrowdPost fosters conversation by presupposing that users within a limited physical area have enough in common to interact with each other, using geolocation to keep the conversation local and relevant.
Users' posts are sent to a location based feed for specific physical locations; users within a particular proximity, a setting which can be adjusted from 1 to 25 miles, can vote, view, and submit posts on the feed for their current location. The radius can be adjusted within the app. The app uses geolocation to "fence" conversations within a radius of up to 25 miles—as soon as a user leaves particular radius their ability to create new posts and vote on their previous locations' feed is disabled, however they gain access to a new feed based on their new position.
Potential use cases could connect concert or sports arena attendees, travelers, party-goers, classmates, neighbors. Indeed, the app's geolocated conversations could bring together neighbors and passers-by who might otherwise remain anonymous and isolated from each other behind their respective screens.
In addition, users will be able to browse posts from other locales to see what the conversation is abroad, for example. However, the ability to participate is restricted to the users' immediate vicinity. Other features include the ability to upvote or downvote posts similarly to Reddit, allowing users to curate their local conversation to what is most relevant or otherwise interesting to local users.
6th Sense Interactive, an agency based in New York has listed the app on the App Store for free. For more details on CrowdPost, visit http://www.crowdpostapp.com.