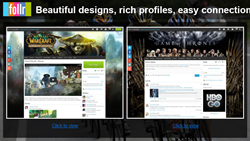 Incorporating such a diverse collection of features in one platform gives users a much more meaningful experience...
(PRWEB) October 14, 2014
Over the past several months, a ground-breaking new social media platform, Follr, has quietly been adopted by some of the world's top brands, online marketers, and social media influencers. Now, with the unveiling of a new suite of event-planning features on top of its already innovative community-centric platform, this little-known website is quickly gaining traction alongside the industry's heavyweights.
At its core, Follr is a community platform, meaning that pages and discussions center around topics of interest to community members. Users create personal profile pages and search for and engage with communities, from favorite brands, bands, television shows and teams, to community organizations, schools, nonprofits, and beyond. On the flip side, brands can build vibrant, unique communities in minutes that offer unprecedented ways to monetize social media efforts by cultivating a niche interested in their products and content.
More than that, though, Follr's position as the community platform is reflective of the long list of intuitive elements that make the social media site its own multi-faceted community. On Follr, users can schedule posts and curate content to and from other platforms, track influence, engage with current networks and build new ones, all in an extremely customized format.
"Incorporating such a diverse collection of features in one platform gives users a much more meaningful experience," says Lori Moreno, an internationally acclaimed media personality and social media correspondent. "Of course, members get to build a profile highlighting their interests and professional accomplishments. However, in contrast to other platforms that center around that profile, the notion that our community affiliations provide a much more complete slice of life is insightful and particularly meaningful to brands which jump through hoops on other platforms trying to get individuals to engage. At Follr, the individual comes to the community, or the brand, because they want to be there. It's a more meaningful structure."
Among Follr's brightest features are the newly launched event-planning components. Not only do they offer unmatched ticket selling and calendar options, but Follr intuitively builds a community around an event allowing attendees to view the profiles of other members and make connections even before meeting – a feature that's particularly useful in business and networking circles. Furthermore, being a member of the community provides opportunities to engage long after events are over, simplifying follow-up by event organizers and amongst attendees.
Follr's innovative features don't end there. Their long list of benefits - which center around customization, productivity, and user-ease - have the potential to take brands to a new level on social media. See for yourself at http://www.Follr.com.