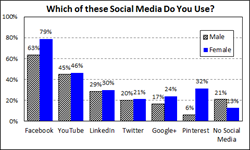 Women are much more likely to use social media than men.
Atlanta, GA (PRWEB) August 30, 2013
In a recent survey with 1,200 U.S. adult (18 years or older) consumers conducted jointly by Polaris Marketing Research, Inc. and Research Now regarding social media differences among key demographic groups, the breakdown yielded several very interesting differences.

Women are much more likely to use Google + and Pinterest too. They also are much less likely to not use any social media.
When asked to identify the Social Media they use primarily, respondents overwhelming selected Facebook, especially among women, while other social media sites lagged far behind.
For most of these major social media sites, there is little difference in usage based on race/ethnicity. However, Asian and Hispanics are much more likely to use YouTube. And White/Caucasian respondents are much less likely to use Google+ than Black/African American and Asian participants.
Age is directly correlated with usage of these social media sites, with younger adults the heaviest users. A third of senior citizens (65+) still are not using any social media.
Polaris and Research Now conducted online surveys with a representative sample of 1,200 American consumers during the week of August 15, 2013. The margin of error, calculated at the 95 percent confidence level, is +/- 2.8 percent.
Founded by Jan Carlson, Polaris Marketing Research is a full-service firm that provides state-of-the-art online interactive marketing research reporting, interviewing and data collection, quantitative and qualitative research expertise and personalized project management.
Atlanta-based Polaris Marketing Research is affiliated with the Council of American Survey Research Organizations, the American Marketing Association and the Marketing Research Association.
Research Now, the leading digital data collection provider, powers market research insights. We enable companies to listen to and interact with the world's consumers and business professionals through online panels, as well as mobile, digital and social media technologies. Our team operates in 24 offices globally and is recognized as the market research industry's leader in client satisfaction. We foster a socially responsible culture by empowering our employees to give back. To find out more or begin a conversation with us, visit http://www.researchnow.com.
For more information, call Danica Kwon at 404-816-0353 (Danica(at)polarismr(dot)com) or visit us at http://www.polarismr.com.