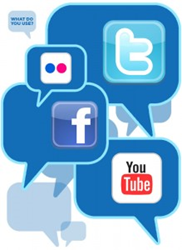 I wanted to put together a collection of informative, how-to articles to demystify social media marketing and advertising.
Fort Lauderdale, FL (PRWEB) May 19, 2016
Experience Advertising, Inc. a leading social media marketing agency, has released a complimentary 24-page e-book about how to effective marketing and advertising on the largest social networks like Facebook, Twitter, LinkedIn, and Instagram. The e-book was written by Experience Advertising's CEO and founder Evan Weber, who was been in the digital marketing industry for nearly 20 years.
Weber stated, "I wanted to put together a collection of informative, how-to articles to demystify social media marketing and advertising. Many companies still think advertising on Facebook for instance doesn't produce returns, so I wanted to dispel that misconception. I also believe strongly in having really good social media management processes in place, so companies can get a lot of engagement out of their social media efforts. Lastly, I wanted to convey what's effective in social media advertising, so companies can do a good job driving in revenue through the channel."
The social media marketing playbook covers the following topics:

10 Ways to Ramp up Your Social Media Activities
10 Ways to Advertise and Manage Social Media on Facebook
16 Ways to Leverage LinkedIn to Build Business
33 Ways to Advertise on Social Networks and Make it Work
How to Use a Facebook Sweepstakes to Ramp Up Social Engagement, Email Opt-ins, and Sales
Experience Advertising, Inc. has been a leading digital marketing agency since 2007, and places a strong emphasis on creating measurable returns from social media advertising. They manage the following social media channels for their clients:

Facebook Advertising and Page Management
Twitter Advertising and Profile Management
Instagram Advertising Management
LinkedIn Advertising Management
Pinterest Advertising Management
Website Visitor Retargeting Ad Campaigns on Facebook and Twitter
Weber continued, "Hopefully this e-book will encourage companies and individuals to run effective social media advertising campaigns that produce a return on investment. There are so many companies that think that social media advertising doesn't produce returns, which is primarily because they don't have the right strategy in place to measure the results. My hope is that with effective procedures and strategies in place, they can make it an effective revenue channel for their business."
If you are interested in working with Experience Advertising, or obtaining a complimentary evaluation, visit their website to learn more.