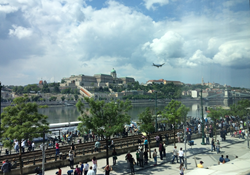 'I am really glad that we have the opportunity to further strengthen our ties with traditional market research,' said Gergo Vari, CEO of Replise.
Budapest, Hungary (PRWEB UK) 2 May 2014
Replise, the social intelligence company, would like to take the opportunity to congratulate Eva Caspary, the managing Director of Insight Europe gmbh on winning Replise' award offered to the participants of the Worldwide AQR/QRCA conference held in Budapest this year. Replise is really proud to sponsor such a prestigious market research event and intended to use its presence to highlight the synergies between traditional market research and online social media research. This is why we offered a complete Mind Radar research report, worth $5000, to the participants who attended the boat cruise on Thursday evening that Replise sponsored.
Gergo Vari, CEO of Replise: "First, let me congratulate Eva Caspary on behalf of the entire Replise social media research team on winning the award. I am really glad that we will have the opportunity to further strengthen our ties with traditional market research. I see incredible synergies and significant benefit for both sides in building on the strengths of the other, and I am convinced that working with Ms Caspary will prove to be an excellent example of how social media insights can feed into and inform traditional market research."
Eva Caspary: "We have a team of 7 senior researchers working all across Europe so this comes as an interesting opportunity for us. I have a few proposals to write on my desk that could definitely benefit from this novel approach to social media research. I am looking forward to how online insights can feed into our qual approach that has a strong element of ethnography."
The booth onsite is attended by the Replise team: Dan Foreman, Non-Executive Director, and Daniel Fazekas, Head of Research; Both expressed that they were impressed by the overall quality of the conference and the speaker line-up. Participants themselves have utilised various social media channels, particularly Twitter, to express and exchange their views on the latest trends and developments in market research. The Conference venue was absolutely stunning. The air show organised for May 1st celebrations in Hungary provided a spectacular backdrop to the event. The evening cruise on the Danube also inspired a fair few participants to share the picturesque cityscape on the web.
Dan Foreman, Replise Non-Executive Director, emphasised that the conference brought out a new optimism in qual research: "Budapest hosted an excellent research conference, and I am really pleased that over 150 market research professionals had the opportunity to discuss the most pressing issues as well as the most promising opportunities in the field. The most important message that shone through the conversations was that there is a rejuvenating optimism growing within the industry."
Rob Wallis of VisionsLive said, "We were impressed with the wide delegate profile of this year's conference. At a time when the industry needs new blood coming through, it was great to see some younger qualies in Budapest. The conference organisation was excellent; the choice of hotel with its commanding view over the river Danube and the boat trip were inspirational!"
Stephen Cribbet, CEO of Dub, added, "The QRCA / AQR Worldwide Conference, as well as providing the perfect networking platform for qualitative researchers, has proven once again that researchers know how to relate to, empathise with and understand people's complex lives better than any other discipline, irrespective of the environment in which they engage them".
"The growth and changes coming to qual are viewed by most participants optimistically and people see a bright future coming to the industry," said Isaac Rogers of 20|20 Research.
Daniel Fazekas, Replise' Head of Research, expressed his gratitude to the organisers and chairs of the conference with special thanks to Nikki Lavoie, Marta Hoffmann and Julie Cygan for making this event happen. "This was an absolutely amazing research conference and the work and professionalism of the organisers is worthy of utmost praise," he added.
Replise would also like to thank the other sponsors and exhibitors for their support; the event would not have been the same without them: VisionsLive, Dub, Better Decisions, 20|20 and Discuss.IO.
About Replise, the Social Intelligence Company
At Replise, we believe in social media. We draw business insights from social media using proven market research methodologies. We help our customers get the cutting edge intelligence they need to create their strategies and define their tactics.
Replise was started in 2008, just a year after Twitter was launched, by a bunch of serial entrepreneurs who believed they could bridge the gap between technology and business. We focus on what we are best at: analysing social media and giving insights; so our customers can focus on what they are best at: their core business. The expertise of our research team, the flexibility of our social analytics platform and the breadth and depth of our data empower our customers.
They can develop better products because we help them understand the needs and wants of their target audiences. They can keep ahead of their competitors and keep up with their industry's cutting edge because we help them see what's in the big picture and what is not. This is why we work with brands like Nike, Samsung and Nestle, and many communication agencies across Europe.
For more information, please contact:
Lefty Balogh
International Communications and Partnerships
lefty.balogh(at)replise(dot)com
+36 30 790 1008
For more information on Replise:
Follow us on LinkedIn: https://www.linkedin.com/company/replise.
Check out our social media presentations on SlideShare: http://www.slideshare.net/Replise_com/.