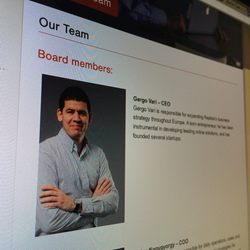 With Replise' growth and global expansion, it is very important to be able to draw on the strengths and expertise of a strong international team.
London, UK (PRWEB UK) 26 March 2014
Replise, the social intelligence company, is pleased to announce the expansion of its global management team. The appointment of Dan Foreman as Non-Executive Director to the board strengthens the company's presence in the United Kingdom, and comes as part of a global expansion program both in terms of service delivery and data coverage. Dominika Poleszak has been appointed as Managing Director for the Warsaw office in Poland, and Sven Sperling has become the MD to the Replise office in Hamburg, Germany.
Dan Foreman, based in London, joins the senior management team with over 20 years of experience in the research industry and brings with him unparalleled expertise in building organisations from start-up to sale. Dan is a highly respected member of the research community, and also serves as President of the European Society for Opinion and Market Research (ESOMAR), which is the world association for market, social and opinion researchers.
His new role will see him champion the company's research products in the professional community. His in-depth understanding of the market research industry enables him to translate the advantages that Replise represents for the scientific community so they can benefit from this blend of technical solutions and human analysis. As part of this expansion, Replise is also opening an office in London, in addition to their existing offices in Hamburg, Frankfurt, Warsaw and Budapest.
"I am pleased to welcome Dan as Non-Executive Director for Replise. I believe, it is Dan's passion for emerging technologies and his professional reputation that will greatly strengthen the Board. His contribution to the strategic objectives makes me confident that we are going to see Replise grow dynamically in the coming year," says Gergo Vari, CEO.
As part of the plan, Replise has also expanded its HQ team supporting the company's expected growth. This fortifies the team with additional sales and marketing staff who have significant experience in international settings. Miklos Nagygyorgy, COO, also emphasised that with the company's growth and global expansion, it is very important to be able to draw on the strengths and expertise of a strong international team.
Further Information
Non-Executive Board Members are appointed by the board and are experts from outside the company. Their role is to advise the company board on performance, operational issues, the implications of strategic proposals, and on the effective management of the company. They will also provide support, guidance and challenge on the progress and implementation of the business plan, and be involved in driving the company towards its strategic objectives.
Following a successful career in research, Dan Foreman has served in senior managerial positions at several companies across the globe. Among many others, he acted as Managing Director, EMEA and APAC at FocusVision, and Managing Director, EMEA and APAC at the ActiveGroup. He also regularly lectures at various universities in his field of expertise. He is also Non-Executive Director for Lumi Mobile, ZappiStore and other businesses. He has been a council member of ESOMAR for over three years, and is now also President of the organization.
About Replise:
Replise, the social intelligence company, is a leading provider of business intelligence and social listening services. Founded in 2010, with a strong focus on business intelligence, Replise integrates classic market research methodologies with novel social media analytics and listening technologies to cater for the needs of the largest brands and companies on the European market. With more than 50 specialists working in offices in London, Frankfurt, Warsaw and Budapest, Replise' ground-breaking technology is perfectly suited to the highly complex social media landscape in more than 40 countries in the EMEA region.
For more information about Replise and how we can help your company turn social media intelligence into business, visit: http://www.replise.com/