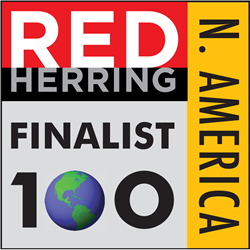 The variety, depth, disruption and traction we saw from the early stage companies to those with significant scale made it one of the toughest vintages to judge.
Bethesda, MD (PRWEB) July 06, 2016
Tracx, the leading social business cloud provider, today announced that it was selected as a winner of the 2016 Red Herring Top 100 in North America, in recognition of technology innovation in the social media industry.
Tracx users are able to build memorable online brands by finding and engaging with influencers and consumers on networks like Twitter, Facebook and LinkedIn. As the world's largest aggregator of social media data, Tracx helps businesses embrace the new social economy by analyzing the large and growing volumes of quantitative and qualitative social media content.
Red Herring's editorial staff evaluated companies based on this type of technology innovation, as well as financial performance and intellectual property, DNA of the founders, business model, customer footprint and market penetration. It selects the award winners from approximately 1,200 privately financed companies each year in the US and Canada.
"The Red Herring 100 has a long and well-respected history in the world of technology," said Rick Rudman, Chairman and CEO of Tracx. "We're honored to be one of a very select number of companies to be chosen for something we value very highly - our technology and innovation in the social media industry."
"In 2016, selecting the top achievers was extremely difficult," said Alex Vieux, publisher and CEO of Red Herring. "The variety, depth, disruption and traction we saw from the early stage companies to those with significant scale made it one of the toughest vintages to judge. The North America winners are representative of the amazing ecosystem that never ceases to astound, with new and experienced entrepreneurs continuing to push the barriers of innovation. As one of the winners, Tracx should be proud of its accomplishment under such strong competition."
Red Herring Top 100 America enlists outstanding entrepreneurs and promising companies. This assessment of potential is complemented by a review of the track record and standing of startups relative to their sector peers, allowing Red Herring to see past the "buzz" and make the list a valuable instrument of discovery and advocacy for the most promising new business models in North America. Red Herring editors were among the first to recognize that companies such as Facebook, Twitter, Google, Yahoo, Skype, Salesforce.com, YouTube, Palo Alto Networks and eBay would change the way we live and work.
ABOUT TRACX
Tracx is the leading social business cloud empowering enterprises to build their brand, attract new customers, service existing ones and connect with other key audiences in the social-enabled world. The solution analyzes and refines mass amounts of geographic, demographic and psychographic data from across the social web to deliver deep insights into customers, competitors and influencers. The world's most respected and leading brands such as New York Times, KraftHeinz, and Comcast rely on Tracx to identify and target audiences, improve planning, enhance monitoring and effectively engage consumers. Tracx is headquartered in Bethesda, Maryland, with offices in New York City, Tel Aviv and London. To learn more about Tracx, follow us @Tracx or visit w http://www.tracx.com.